Will China's leaders regret Bo Xilai's fall?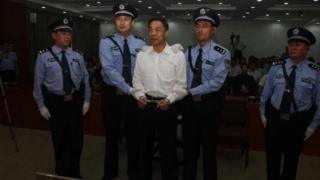 With Bo Xilai's demise, the Communist Party of China has lost the most talented politician of his generation.
It is a bit like the UK Labour Party dismissing Tony Blair just before 1997 when it stood to win the election that year, or the Democrats in the US in 1992 dumping Bill Clinton.
Bo's charisma and his natural political gifts put him in the same league as these figures.
And had he been a politician in a democracy, it is even possible that he could have survived the misdeeds of his wife and his closest ally Wang Lijun, because the brute fact is that in the courtroom in Jinan where he was tried in August not a shred of evidence connected him to their crimes.
The worse that could be said of him was that he was the victim of misguided loyalty.
Bo's fall was good news to his many enemies in the Communist Party elite and made their lives, despite its destabilising drama and surprise, in the end much easier in managing the horse-trading around the leadership transition in late 2012.
Bo would have been a hard person to leave out of the new line-up, but also a very tough person to place well. Some speculated that he could be made the head of the National People's Congress, or of the Chinese People's Political Consultative Conference. Both would have offered natural power bases for him to mobilise public opinion. It would have been very hard to sideline him.
The campaigns that Bo was most publicly associated with while in Chongqing - the clampdown on the mafia and the red song campaigns - were regarded with distaste by many commentators.
The first certainly involved the delivery of rough justice and was associated with a lot of brutality. But defenders of Bo might argue that he was pitting himself against some of the least attractive, most venal members of contemporary Chinese society - snakeheads, mafia bosses and criminal leaders, who were not slouches when it came to dolling out violence themselves.
The fact that Bo was willing to take them on and stand up for the authority of the party was at least a step closer to greater rule of law and predictability in society. At least people could be assured there was only one entity bossing them about - the government led by the party - rather than multiple illegal ones.
Bo was also the only leader of his generation to truly try to reach across from the privileged elite zone of power in modern China and speak directly to people.
That was the basis of his popularity, and perhaps the reason for why his treatment in Jinan at least gave him some voice and tried to paint him as at the heart of a highly dysfunctional and unsavoury family.
It was always unlikely that people would take to the streets in support of Bo in sufficient numbers to threaten the party. But nor could they bury him without a voice, and their mode of attack- the venality and uncontrolled behaviour of his wife and security chief Wang Lijun - were narrow but effective modes of attack.
Unlikely return
Bo has been sentenced, and, despite the great exception of Deng Xiaoping who came back from the political graveyard three times, he is highly unlikely to ever emerge again as a leader.
If the current system is maintained (and the likelihood is that at least in the short to medium term it will be) then Bo will enjoy the same fate as other high-level felled figures such as the late Beijing Mayor Chen Xitong, who was toppled in the late 1990s, and Party Secretary of Shanghai Cheng Liangyu, from the mid 2000s.
Both of these disappeared into silence and obscurity. Bo will no doubt join them.
But his legacy will not be so easy to dispel, nor the questions that he raised both while in power and also when he fell.
Those politicians that remain have to contemplate mobilising public opinion in a more imaginative way than has been done so far.
They have to try, as Bo, to reach out to people more directly, and appeal to their emotions and aspirations in ways that he evidently did, at least while in Liaoning and then Chongqing.
And there has to be a different way to deal with figures like Bo, who pose a political threat through their difference to everyone else.
To have those people brought down as Bo was is not sustainable for the party, and in the end only reinforces its image as a brutal, intrigue-led cabal rather than a modernising political force.
No justice?
Justice in the end was not served neither in Jinan nor in Bo's sentencing.
Too many questions remain about what precisely the connection between his wife and her claimed murder of the British businessman Heywood was, and about the real nature of his abuse of power and corruption.
The elephant lurking in the room throughout this process has been the fact - known to everyone but clearly expressed by none - that Bo's treatment was, from beginning to end, based on political rather than criminal issues.
His sentence was almost certainly sanctioned by the Standing Committee Politburo, and his treatment closely managed by them.
His real sentence was delivered by Wen Jiabao, then Premier, at the National People's Congress in March 2012, whose devastating indirect attack on Bo sealed his fate. From that moment, Bo was a dead man walking.
But his final departure is a huge loss for political life in China, and for the party, no matter what sheen it tries to put on things. And it may well be one that, in the years ahead, it comes to rue and regret.
Kerry Brown is professor of Chinese politics at the University of Sydney, team leader of the Europe China Research and Advice Network (ECRAN) funded by the European Union, and an Associate Fellow of the Asia Programme at Chatham House.