China media: Global economy and Syria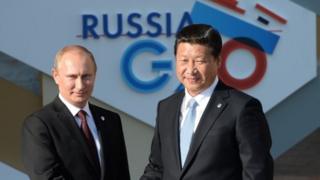 State media are backing Beijing's warnings on the negative global impact of US economic policies and any potential military strike in Syria.
China and Russia warned on Thursday that the "spill-over effects" of the US Federal Reserve's end to its bond-buying programme could negatively affect global economic growth.
"The US' quantitative easing monetary policy shows that the US has not really taken into account the spill-over effects of its monetary policy... Faced with China's slowing economic development, some people in the West with ulterior motives have tossed out a China 'recession theory', raving that the China model has 'hit the wall' and so on. This is nonsense that is totally ignorant of the facts," comments Zhang Qizuo, a G20 expert, in the Communist Party's Guangming Daily.
Other state media outlets are also backing President Xi Jinping's assurances at the summit that China's economic fundamentals are sound.
"Certain countries or individuals are blinded by their own selfish interests and even taking the opportunity to bad-mouth China... The '[China] collapse theory' is also a further product of a Cold War mentality, and some Westerners have a deep-seated fear and aversion towards China, and do not want to see a country that 'does not meet Western democratic standards' succeed," says a front-page commentary in the People's Daily Overseas Edition.
Newspapers are also complaining that the summit has been hijacked by US President Barack Obama's support for a military strike on Syria.
"The world economic agenda of growth and employment that was originally meant to be discussed has been disrupted by the US' upcoming air strikes on Syria... The G20 summit should not invest its energy entirely on Syria. The US military action plan cannot be allowed to control the tempo of the global economy and politics," says the state-run Global Times.
Meanwhile, Xinhua news agency's report on Mr Xi's first face-to-face meeting with Japanese Prime Minister Shinzo Abe on the sidelines of the summit is getting high-profile coverage in major news portals.
During the brief encounter, Mr Xi pointed out that Sino-Japanese relations are "facing serious difficulties" and urged Japan to "face squarely" its World War II invasion of China and "correctly handle" a long-standing dispute over East China Sea islands, the agency reports.
Territorial dispute
In news involving another territorial dispute, the Philippines has confirmed to the Global Times that its ambassador to China was recalled on Thursday for consultations on a long-running row over the ownership of Scarborough Shoal in the South China Sea. The region is known as Panatag Shoal in the Philippines and Huangyan Island in China.
The Chinese Foreign Ministry on Thursday urged the Philippines to "stop making trouble" over the disputed island, after rejecting Manila's accusations that Beijing is building concrete blocks on the island.
Turning to domestic news, The Beijing News is calling for more details in the case of Yang Dacai, a former director of a work safety bureau in Shaanxi province who has been sentenced to 14 years for bribery and corruption.
Mr Yang, who has been nicknamed the "smiling official", was removed from his post in September after a picture of him grinning at the scene of a bus crash that killed 36 people circulated online and sparked public indignation.
He was also nicknamed "Brother Watch" after Internet users noticed Mr Yang's penchant for wearing expensive watches in several online photos. "'Brother Watch' has been jailed now, but regretfully, there are doubts over where his many watches came from. Not only was this not mentioned at all in court, there was no explanation about whether these brand-name watches were included among the illicit money in the first-instance verdict," the Beijing News says.
And finally, the Southern Metropolis Daily reports that the government is considering scaling back on English language assessments for primary school students because it is putting too much pressure on students.
BBC Monitoring reports and analyses news from TV, radio, web and print media around the world. For more reports from BBC Monitoring, click here. You can follow BBC Monitoring on Twitter and Facebook.