China media: G20 summit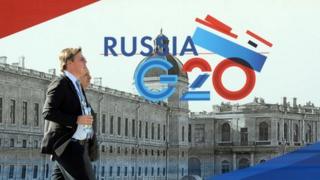 Media warn of a growing rift between G20 member nations as the group starts its annual summit in Russia on Thursday.
Some state media and experts believe that developed members of the G20 are unwilling to reduce trade barriers for the developing world.
"The question of how to reconcile divergent interests among members, especially differences between developed countries and emerging market countries, is a key issue affecting whether the G20 transforms smoothly," says the People's Daily, a Communist Party newspaper.
The newspaper adds that rifts are likely to deepen over reforming the international financial system, building a multilateral trading system, regional free trade deals and climate change.
"Recently, a protectionist momentum has risen among some G20 members. Signs are emerging of developed countries evading their international responsibilities. This has increased risks for the world's economic recovery. Facts show that no country can remain unscathed in a global economic crisis; developed countries should pay attention to the impact of their economic policies on the global economy," comments the official Xinhua news agency.
One expert asserts that the developed members of the G20 have a contradictory mindset in expecting Beijing to shoulder more international responsibilities, but also fearing the growing economic influence of emerging markets such as China at the same time.
"The advanced economies are keen to dominate the talks, focus on their domestic issues that weaken their positions as G20 members, and ignore the appeals of emerging economies. They are in a dilemma concerning China's rise," Huang Wei, a specialist in global governance at the state-run Chinese Academy of Social Sciences, writes in the China Daily.
There are also concerns that cultural and economic differences among developing countries and emerging market nations are hampering the G20's ability to initiate reforms.
"As for developing economies, the substantial differences and lack of experience in co-operation inflate the costs of their co-operation and co-ordination," Huang Wei adds.
Moon cakes
In other international news, the Chinese Foreign Ministry rejected on Wednesday Manila's accusations that Beijing has laid concrete blocks on Scarborough Shoal, a disputed island in the South China Sea which is also known as Panatag Shoal in the Philippines and Huangyan Island in China.
Philippine Defence Secretary Voltaire Gazmin believes that the alleged blocks could be a prelude to further construction. The country's Foreign Affairs Secretary Albert Del Rosario also says his government will file a diplomatic protest against China.
However, Chinese experts assert that Manila's complaints stem from a failure to gain support from other countries for its bid to seek international arbitration over its territorial dispute with China.
"Actually it is impossible to construct a building on such a tiny island. Manila is eager to project the image that China violates the rules set by the Declaration on Conduct of Parties in the South China Sea," Li Guoqiang, an expert on border issues at the state-run Chinese Academy of Social Sciences, tells the China Daily.
Meanwhile, Beijing has issued a ban on officials using public funds to buy luxury moon cakes ahead of the Mid-Autumn Festival.
In the past, officials have reportedly used taxpayers' money to buy astronomically-priced moon cakes that are boxed in real gold or silver. These high-end Chinese delicacies which are normally filled with egg yolk and lotus seed paste are sold in boxes made of pure gold and can fetch up to 160,000 yuan (£16,741 pounds; $26,143) a piece.
Giving moon cakes to relatives and business associates is an integral part of the festival as a gesture of goodwill.
"There will be a ban this year on buying moon cakes with public funds… The central authorities have issued three bans within two weeks on gift-giving during the Mid-Autumn Festival and National Day. Clearly, this is not just casual talk, but preparation for real action," the Beijing Youth Daily reports.
The Mid-Autumn festival is celebrated mainly by the Chinese people and is held on the 15th day of the eighth month of the Chinese calendar.
BBC Monitoring reports and analyses news from TV, radio, web and print media around the world. For more reports from BBC Monitoring, click here. You can follow BBC Monitoring on Twitter and Facebook.