China media: Xi in Central Asia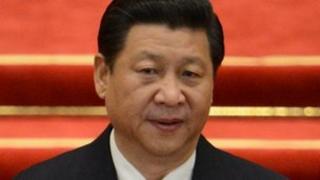 State media say the Syria crisis is on President Xi Jinping's agenda as he visits Central Asia and Russia.
Mr Xi has upgraded relations with Turkmenistan to a strategic partnership and secured more natural gas shipments to China during a stopover in the country before leaving for the G20 summit in Russia.
The Chinese leader will then visit neighbouring Kazakhstan, Uzbekistan and also attend a summit of the Shanghai Co-operation Organisation (SCO) in Kyrgyzstan.
Even though it is seen as a regional body focused on security co-operation and trade, some state media are calling on the SCO to take a stand on Syria.
"Iran is an SCO observer state, and Iran and Russia are Syria's main allies, so the SCO summit should take a stance on the current chaos in Syria," says a commentary by the website of the People's Daily Overseas Edition.
State media issue further calls to the US not to launch a military strike on Syrian government forces without UN authorisation, as well as questioning the validity of US evidence that Syrian government forces used chemical weapons in a deadly attack last month.
"We do not know who used chemical weapons in Syria in the end, but we have to say that the evidence presented by the US and France is indeed ambiguous," comments the Global Times.
In other news, a senior executive of the China arm of UK pharmaceutical firm GlaxoSmithKline (GSK) has released a statement to the Chinese media alleging that sales staff were under pressure from the firm's UK headquarters to meet high sales targets. This eventually forced them to give kickbacks to doctors and hospitals to help boost business, the executive says.
GSK has not responded to the executive's statement as yet.
Several GSK China executives have been detained in recent weeks in an ongoing investigation into alleged tax evasion and commercial bribery.
"As the investigation is moving on, it is becoming clear that it was organized by GSK China rather than being the behaviour of individual salespeople... When investigated, the company passed the buck to the sales force," the Global Times comments.
Meanwhile, other media note that commercial bribery is an industry-wide problem in China's pharmaceutical sector.
"Hundreds of hospitals have been implicated and this is undoubtedly a shockingly huge figure... It also shows that the long-festering ills of the pharmaceutical industry have led to this shocking phenomenon today," says The Beijing News.
'Naked officials'
In another corruption-related story, Zhang Shuguang, a former deputy chief engineer of the now disbanded Ministry of Railways, will face trial soon accused of taking huge bribes to help firms win high-speed-rail bids.
His case has received high-profile media coverage in China and overseas as his daughter was reportedly employed by the US firm JP Morgan.
The firm is said to be under investigation in the US for allegedly hiring "princelings" - the children of high-ranking officials - to help boost its business in China.
"If there are no strict investigations into 'naked officials', they are likely to become a big funnel draining away the credibility of the party and the government," comments the Beijing Times.
The term "naked officials" refers to officials who transfer assets overseas or who send their wives and children to reside abroad.
Finally, police in Fenxi county in northern Shanxi province say that a suspect who gouged out the eyes of a 6-year-old boy recently may have been his aunt.
The Southern Metropolis Daily says the aunt, Zhang Huiying, was confirmed to be a suspect after traces of her DNA was detected on her nephew's body after he was found with his eyes gouged out. The police also found blood stains belonging to the boy on Ms Zhang's clothing.
The aunt killed herself by leaping into a well located in the courtyard of her own home on Friday, the newspaper adds.
BBC Monitoring reports and analyses news from TV, radio, web and print media around the world. For more reports from BBC Monitoring, click here. You can follow BBC Monitoring on Twitter and Facebook.