China media: Microbloggers held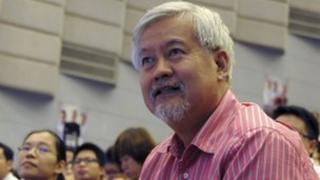 State media have denied that the government is cracking down on free speech following a spate of detentions of high-profile social media users.
State media are playing down concerns over the detention of Charles Xue Biqun (also known as Xue Manzi), a Chinese-American businessman and high-profile blogger who was detained by authorities in Beijing last month for allegedly hiring prostitutes for "sex parties".
Mr Xue was featured recently on state broadcaster China Central Television appearing to confess to the charges, however, he has not released any statement independently.
He gained a large number of followers on Chinese social media for his liberal views and online campaigns to combat child trafficking and raise funds for impoverished children.
Mr Xue's detention coincides with a widening crackdown on "big Vs" or well-known microbloggers or internet commentators on all kinds of charges including "online rumour mongering" or simply venting anger at the authorities.
The detention of "big V's" has raised fears that this might be linked to a wider crackdown on freedom of speech.
"The crackdown has been widely interpreted as an attempt to silence prominent liberal voices, especially after popular internet commentator Charles Xue was detained on charges of soliciting prostitutes last month," notes Hong Kong's South China Morning Post.
The Post also highlights how Song Huichang, a professor at the Communist Party's Central Party School, has obliquely criticised the ongoing crackdown on "online rumour mongering" by comparing "some leading cadres with confused thinking" to King Li, a despotic ruler of the ancient Zhou dynasty.
King Li was overthrown by a revolt by farmers and soldiers for raising taxes and putting anyone to death who dared to speak against him.
"No matter what era it is, one must not think that one can act according to whim and block people's mouths because one controls power. They may succeed for a time, but they will be ousted by the people in the end," Prof Song wrote in the party school's newspaper Study Times on Monday.
Hong Kong's Oriental Daily News also flags up a now-deleted microblog post by the police in Guangzhou city warning that the anti-rumours crackdown could become a "nightmare".
However, state media are quick to dismiss connections between Mr Xue's detention and any clampdown on the freedom of speech
"Chinese police have been fighting prostitution for a long time, and many people have been punished for this. There is no reason to think that Xue's arrest had anything to do with 'free speech'," the Global Times says.
"In today's China, no matter whether it is corrupt 'big tigers' [high-ranking officials] or law-breaking 'Big V's', there will be no privileged treatment," adds the People's Daily, a Communist Party mouthpiece.
Some state media are also urging authorities to step up supervision of the internet and social media against subversive trends.
"The traditional media's ability to guide public opinion has been weakened... The problem of a flood of negative public opinion and rumour fabrication is quite prominent, and Western anti-China forces have been attempting to use the internet to 'subvert China'. We must face up to this fact," warns a front-page commentary on the Beijing Daily.
"An ambiguous attitude in society has condoned extreme speech. Some of our leading cadres have not dared to unsheathe the sword at a crucial moment and have even tolerated radical thought to a certain extent," warned the People's Daily on Monday.
Anti-corruption website
In other news, the Southern Metropolis Daily reports that Chinese authorities have launched an official anti-corruption website, which allows members of the public to fill in an "online petition" anonymously or by using their real names to blow the whistle on corrupt officials.
The launch of the website comes in the wake of the sacking of China's highest-ranking official in a campaign against corruption. Jiang Jiemin, director of the cabinet's Assets Supervision and Administration Commission (Sasac), a ministry-level agency that oversees major state-run companies, is facing a corruption probe.
Meanwhile, The Beijing News says Tian Xueren, a former vice-governor of northeast Jilin province, has been charged in Beijing with taking 85 bribes worth 19.2m yuan ($3.1m; £2m) and abusing his powers to promote officials in return for kickbacks. A court trial in the case is expected to start in the near future.
In another case reported by The Beijing News, Su Shunhu, a former deputy chief of the transport bureau at the dismantled Ministry of Railways - now named China Railway Corp, will stand trial soon after being indicted for taking more than 24m yuan in bribes from three companies.
BBC Monitoring reports and analyses news from TV, radio, web and print media around the world. For more reports from BBC Monitoring, click here. You can follow BBC Monitoring on Twitter and Facebook.