China media: Jiang Jiemin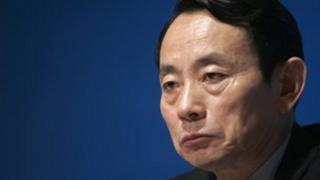 A probe into China's top supervisor of state companies has sparked speculation in the Hong Kong press about a wider crackdown on bigger "tigers"
Jiang Jiemin, director of the Assets Supervision and Administration Commission (Sasac), a cabinet body supervising major state-owned enterprises, is the first ministerial-level official to be investigated in a high-profile campaign against corruption kick-started after Xi Jinping became the Communist Party's leader last year.
Mr Jiang was appointed head of Sasac in March this year, after serving for seven years as the chairman of China National Petroleum Corp (CNPC), the country's biggest oil company.
The investigation comes in the wake of similar probes against four current CNPC executives, including deputy general manager Wang Yongchun, a former Jiang aide at CNPC.
"For a long time, energy, finance and other hotspot economic sectors have easily become high-risk corruption zones due to the reaping of huge monopoly gains, coupled with imperfect internal control mechanisms," says The Beijing News.
Shanghai's China Business News says rumours have been circulating online since last August that Mr Jiang was under investigation.
"Jiang is considered the head of the 'oil faction' and a lead protege of former Communist Party Politburo Standing Committee member Zhou Yongkang in the oil system. His downfall adds further suspicion to rumours in the outside world about Zhou Yongkang being in trouble," notes Hong Kong's Apple Daily.
Hong Kong's South China Morning Post reported last week that Communist Party leaders had agreed to start a corruption investigation into Mr Zhou. However, there has been no confirmation of this from official media.
Meanwhile, Beijing insiders have tipped off Hong Kong's Ming Pao about an anti-corruption probe facing military officials. Again, there has been no official confirmation of this in state media.
'Sorrow of the world'
Turning to Syria, Chinese state media and commentators continue to warn against a US military strike against Syria before the result of a UN weapons inspectors' investigation into an apparent chemical weapon attack is released.
"If the United States really has lost the patience to wait for the findings of an authoritative UN inspection, this is not only the sorrow of the world, it is the United States' own sorrow," urges the People's Daily, a Communist Party newspaper.
Following a UK parliament vote against military intervention in Syria last week, the Chinese media also question whether US will fight the battle alone, should it launch a military strike in Syria.
"Obama and [US Secretary of State] Kerry obviously misjudged the situation. The UK parliament gave the White House a heavy blow. The morale of Syrian government army will not collapse as easily as imagined in the face of air strikes. It will be hard for the US to win gloriously or bow out successfully," the Global Times says.
New rules requiring people to use their real names when applying for a new mobile phone or internet service provider is stirring controversy as it coincides with an ongoing crackdown on "online rumour mongers".
There have been a spate of recent high-profile detentions of whistle-blowing journalists and outspoken internet commentators for allegedly spreading defamatory or false information via social media, as well as people voicing "radical" inflammatory views online.
"The Chinese Communist Party has been combating internet rumours, strictly controlling rights activists, blocking independent films and arresting media celebrities on trumped-up charges. The political pressure is stifling and the whole country is in a white terror. The mobile phone real-name system is the latest move," comments Hong Kong's Oriental Daily News.
"A crackdown, no matter how severe, is unlikely to work... Political gossip is rife on microblogs precisely because of the authorities' futile attempts to draw a heavy veil," comments Wang Xiangwei, editor-in-chief of the South China Morning Post.
BBC Monitoring reports and analyses news from TV, radio, web and print media around the world. For more reports from BBC Monitoring, click here. You can follow BBC Monitoring on Twitter and Facebook.