China media: Gang-rape trial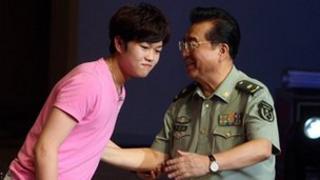 The trial of a Chinese army general's son over an alleged gang-rape dominates Thursday's headlines.
A gang-rape trial involving Li Tianyi (also known as Li Guanfeng), the teenage son of an army general who is famous in China for singing revolutionary songs, is fuelling public anger over the behaviour of children of the elite who are perceived as over-privileged, arrogant and above the law.
On the opening day of the trial in Beijing on Wednesday, media report that Li Tianyi pleaded not guilty to gang raping a woman in a hotel in February.
The case is a closed-door trial because it involves minors, whose privacy must be protected by law. However, the case is still on the front pages of most newspapers because of huge public interest.
"A large amount of public discontent has poured out at Li Tianyi's case... Many people want him to pay a heavier price than offenders from ordinary family backgrounds... The court should treat Li Tianyi as an ordinary minor... The court should forget who Li Tianyi is the son of," says the Global Times.
The hearing continues today.
Another major scandal that is dominating the media is an ongoing investigation into detained Guangdong native and US citizen Charles Xue (also known as Xue Manzi) for allegedly hiring prostitutes for "sex parties".
Mr Xue has been shown on state television appearing to have "confessed" to the charges.
However, Mr Xue's detention coincides with a widening crackdown on "big Vs", or well-known microbloggers or internet commentators, on all kinds of charges such as "online rumour mongering" or simply venting anger at the authorities.
"In the social media environment, internet Big Vs have a certain reputation and influence... Internet big Vs should take 'Xue Manzi' as a warning to adhere strictly to a moral and legal bottom line," comments the People's Daily.
"We believe Xue Manzi should indeed 'admit defeat'. His supporters should not continue to defend him. If liberals 'wash away' Xue Manzi's soliciting of prostitutes, this is definitely not a wise move. It cannot save Xue's reputation... We hope that this incident is not over-'politicised'," stresses the Global Times.
Syria warning
Turning to international news, China's official media warn again that a US-led military strike on Syrian government forces will violate international law if there is no credible evidence from United Nations weapons inspectors that Bashar al-Assad's forces are using chemical weapons.
"By putting the blame on the government before the UN chemical weapons inspectors complete their independent investigations and reach an authentic and credible conclusion, they are acting as judge, jury and executioner. The international community should exercise patience instead of allowing itself to be led by the nose by US intelligence, which after all was responsible for claiming Saddam Hussein had weapons of mass destruction," says the state-run China Daily.
"Unfortunately, the US and some other Western countries seem to have decided on a 'presumption of guilt' instead of an objective investigation and on military intervention instead of political dialogue... The international community can only remain vigilant against such brazen hegemonist acts," says a front-page commentary in the People's Daily Overseas Edition, a Communist Party mouthpiece.
Some newspapers are praising New Zealand dairy giant Fonterra for its handling of a botulism scare that sparked global recalls of its milk products earlier this month. New Zealand officials say that further tests of the products have revealed a different strain of bacteria that posed no danger to consumers.
"The 'false alarm' triggered by the Fonterra tainted dairy incident is very instructive. This case has provided a model for how businesses and governments should act when faced with food safety incidents," says The Beijing News.
BBC Monitoring reports and analyses news from TV, radio, web and print media around the world. For more reports from BBC Monitoring, click here. You can follow BBC Monitoring on Twitter and Facebook.