China media: Syria warning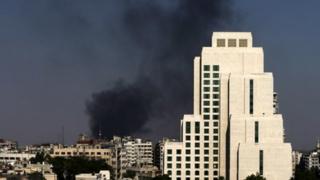 State media warn against foreign military intervention in Syria and call for an impartial UN probe into apparent chemical weapons attacks.
Amid mounting speculation over a possible US military strike, state media echo the Chinese government's repeated calls for the international community to let United Nations weapons inspectors carry out an "impartial" investigation into the possible use of chemical weapons in the Syrian conflict.
"There should not be rash assertions until the truth is verified, let alone a 'presumption of guilt' or using this as a pretext to take unilateral military action," stresses Xinhua, the country's most authoritative official news agency.
Some state media are also warning against a repeat of the US-led invasion of Iraq in 2003 without a United Nations mandate.
"The international community needs to raise vigilance against external forces replicating this model in Syria. The 'use of chemical weapons' cannot be handled with 'groundless' measures and any follow-up actions need to be supported by true and reliable investigation findings," says the People's Daily, the Communist Party's official newspaper.
"Forces around the world that oppose external military intervention should unite to prevent as far as possible the US, UK and others from launching air strikes against Syria. If they cannot stop this, they should openly support the Syrian government to engage in resistance," says the Global Times, a newspaper affiliated to the People's Daily.
"Russia and Iran need to consider providing direct military assistance, while China and other countries should give support," it adds.
Turning to domestic news, state media yesterday broke its silence on recent international media reports of police shooting dead at least 15 ethnic Muslim Uighurs in the northwest region of Xinjiang.
The Kashgar Daily mourns the death of a paramilitary police officer who was killed in what it calls a raid on a "violent terrorist gang" in Kashgar county on 20 August,
Overseas Uighur groups often accuse the Chinese authorities of using "terrorism" as a pretext for a security clampdown in the region. Reports of violent unrest in Xinjiang are difficult to verify independently.
Annual meeting
One day after the sensational trial of disgraced former high-ranking leader Bo Xilai ended on Monday, the Communist Party has declared that it will hold its annual meeting in November.
The Southern Metropolis Daily says "swatting flies and beating tigers", or combating both low-ranking and senior corrupt cadres, ranks high on the meeting's agenda.
In other corruption-related news, three more top executives of China's largest oil and gas firm, China National Petroleum Corp (CNPC), are being investigated by the Communist Party's anti-corruption watchdog for alleged violations of discipline.
Earlier this week, a deputy general manager of CNPC was placed under a similar party investigation.
"Speculation is rife that Zhou Yongkang, a former member of the party's supreme Politburo Standing Committee and a former CNPC general manager, may be a target of President Xi Jinping's anti-corruption drive," says Hong Kong's South China Morning Post.
Elsewhere, military art troupes, or wen yi bing, have been given a public dressing down by President Xi Jinping over a string of recent scandals involving high-profile entertainers exploiting privileges and profiteering.
Troupes are now banned from appearing at private karaoke parties, commercial advertisements, talent contests or reality television shows or touring abroad without prior approval.
The ban coincides with a highly-anticipated gang rape trial that opens today involving the teenage son of famous military singers. The case has caused outrage in the Chinese public for months over the privileges of the children of high-ranking government and military officials.
"Some military troupe artists are actively seeking fame and fortune in commercial performances, and some are involved in scandals that have damaged the image of the armed forces," comments the Global Times in reference to the case.
And finally, the shocking case of Tong Binbin has led to more soul-searching in the media over crimes against children and the degradation of a "moral bottom line" in society.
A six-year-old boy was found with his eyes gouged out, with his corneas possibly harvested by an organ trafficker, in Fenxi in the northern province of Shanxi on Saturday. A female suspect is in police custody in the case, reports say. There are contradictory reports relating to whether or not the little boy's corneas were removed.
"No matter whether this was an organ sale or another crime, such inhuman acts must not only be punished, but must be given the severest condemnation," says The Beijing News.
BBC Monitoring reports and analyses news from TV, radio, web and print media around the world. For more reports from BBC Monitoring, click here. You can follow BBC Monitoring on Twitter and Facebook.