Chinese general's son Li Tianyi denies rape at trial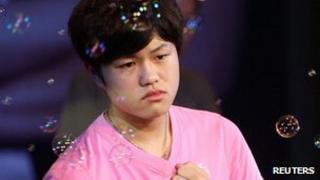 The son of a high-profile Chinese army general has denied rape, in a case that has caused public outrage.
Li Tianyi, 17, is charged along with four others with raping the woman at a Beijing hotel in February after having drinks at a bar, state media say.
Beijing newspapers said he denied any sexual relations with the woman, who he alleged was working as a prostitute.
Reports said she was not at the hearing because she is in hospital suffering from stress.
Li Tianyi is the son of army Gen Li Shuangjiang, known for his renditions of patriotic songs on television.
The teenager was sentenced to detention for a year in 2011 over a road rage incident which triggered an outcry.
He was behind the wheel of a BMW car with no licence plates in Beijing when he confronted a middle-aged couple in another vehicle blocking his way.
He assaulted the couple and shouted at shocked bystanders, telling them not to "dare call police".
His father apologised to the couple over the incident.
Li Tianyi's mother Meng Ge is also a well-known singer in China's People's Liberation Army.
The case of Li Tianyi has inflamed public anger at the children of the political elite, who are often seen as spoilt, reckless and above the law, says the BBC's Martin Patience in Beijing.
The People's Daily newspaper, the mouthpiece of the Communist Party, even weighed in on Li Tianyi's latest case, saying the failure of prominent families to educate their children could antagonise the public, our correspondent adds.
In July, hackers demanding justice attacked the website of one of the law firms representing Li Tianyi, according to media reports.