Man kills four, injures 11 in China knife attack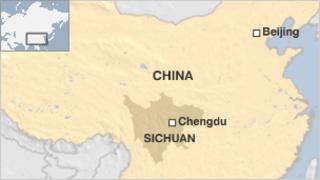 A man has killed at least four people and left 11 injured in a knife attack in the Chinese city of Chengdu.
The attack happened on Sunday night on a bus. As it left a stop, the man began attacking passengers, reports said.
The driver stopped the bus and opened the doors so passengers could escape, but the attacker then disembarked and turned his knife on passers-by.
Witnesses say the driver and other people cornered the attacker, who was eventually shot in the leg by police.
Many of the injured suffered stab wounds. Local media say the youngest victim is only 10 - it is not known if she was one of those killed.
Police say the attacker is a 41-year-old man surnamed Li from an area near Chengdu, which is in Sichuan province.
Mr Li reportedly told police he had arguments over money with his family the day before. His exact motive for the attack was not revealed by the police.
This is the latest in a series of apparently random attacks in China. Earlier this month, a man wielding a knife killed three people on a bus in Henan province.
In July, a man said to be mentally ill, injured several people in Shenzhen, Guangdong province. This came two days after another man was arrested in Henan province for a knife attack that killed five.