China media: Bo Xilai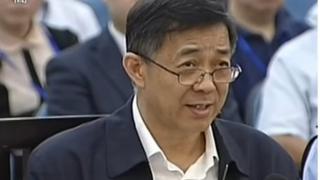 Media reporting on former leader Bo Xilai's trial remains highly controlled, while the arrests of a celebrity microblogger and journalist renew censorship concerns.
As the trial of former Chinese politburo member Bo Xilai enters its fifth day in Jinan, Hong Kong media are reporting concerns among legal experts and internet users about a lack of transparency in the proceedings.
The court's official microblog is still only releasing transcripts of the heated confrontations between Mr Bo and witnesses. There are no video or audio records.
"Sensitive testimony that might humanise Bo Xilai or cast Beijing in a bad light has been scrubbed from the public transcripts of the former politburo member's corruption trial," insiders tell Hong Kong's South China Morning Post.
Most newspapers continue to only print brief roundups of the trial from Xinhua, China's most authoritative official news agency.
There is little independent press reporting or commentary except from party-affiliated mouthpieces such as the Global Times, which on Saturday again hailed the "unprecedented openness and transparency of the court's "live microblogging" of the trial.
One lawyer has complained to Hong Kong's Ming Pao that some of the corruption allegations against Mr Bo are "unclear and inconclusive".
Other legal experts believe that the wife and younger son of Bo Xilai should stand trial for economic crimes if Mr Bo is found guilty of bribery.
"The whole Bo family is very key to the case. The arrangement gives rise to suspicions that there are more serious scandalous details underneath," He Weifang, a legal scholar at Peking University, tells the South China Morning Post.
The court's censored transcripts are also triggering further speculation and jokes among China's online community.
In a list of netizens' top questions about the trial, Sohu, a Beijing-based news portal, says internet users are even speculating over a mystery "rare meat" brought back by Mr Bo's younger son from Africa as mentioned in the testimony of Gu Kailai, Mr Bo's estranged wife.
'Internet hypocrites'
Instead, many newspapers are commenting on the arrest of a "big V" or celebrity Weibo (microblog) user, Charles Xue (also known as Xue Manzi), in Beijing for allegedly soliciting a prostitute. He is a native of southern Guangdong province and a naturalised US citizen.
"The arrest of Xue Manzi is an alarm to deter internet hypocrites and to remind us netizens to look at weibo rationally and not to blindly follow trends and recklessly engage in worship," says a commentary on the party-run newspaper Guangming Daily's website.
The Beijing Times says Mr Xue has had a massive online following since he raised awareness about the problem of child trafficking in China and started a donation campaign to help a daughter fund her mother's medical treatment.
One of Mr Xue's former employees, Qin Zhihui (known as Qin Huohuo in social media), and other staff at Erma, a Beijing-based marketing company, are currently in detention for spreading thousands of "online rumours" in social media about the government, companies and celebrities.
"Some 'big Vs' have become mouthpieces and megaphones of 'major rumours', and this phenomenon has aroused reflection and vigilance in the whole of society...," warns the People's Daily, an official Communist Party newspaper in reference to "Qin Huohuo".
However, the arrest of Mr Xue and "Qin Huohuo" and the official media's reaction have raised concerns over whether a crackdown on spreading "online rumours" could be targeting influential opinion leaders.
"The law is not a scarecrow, this is the signal sent from the arrest of Qin Huohuo to the detention of Xue Manzi... Since Xue Manzi has confessed to soliciting prostitutes, those people who still direct criticism at the government in spite of everything should seriously reflect on their own political morality and wisdom," says the Global Times, a People's Daily-affiliated newspaper.
Mr Xue has not released any public statement or updated his Weibo account since his arrest.
Beijing police have also detained Liu Hu, a whistle-blowing journalist with Guangzhou's New Express Daily newspaper, on suspicion of "criminal fabrication and dissemination of rumours online".
Although the police did not specify the alleged "rumours", the China Daily notes that Mr Liu openly alleged on his real-name Weibo account that a high-ranking government official was negligent with his public duties.
'This [arrest] has sparked controversy. The sceptical have come out with the usual cliches about punishment for speech crimes and even portray Liu Hu as a defender of the news... Our country's laws give citizens the right to report and denounce state civil servants, so real-name reporting is encouraged,' stresses a commentary on the People's Daily Overseas Edition website.
BBC Monitoring reports and analyses news from TV, radio, web and print media around the world. For more reports from BBC Monitoring, click here. You can follow BBC Monitoring on Twitter and Facebook.