Bo Xilai trial as blogged by the court - Day Three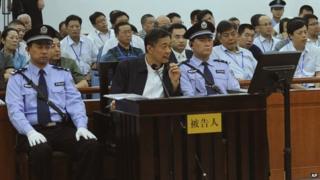 The court at which disgraced Chinese politician Bo Xilai is being tried has taken the unprecedented step of posting live updates of his trial on Sina weibo, one of China's Twitter-like microblogs.
On the third day, Mr Bo came face-to-face with the man who brought this whole scandal to public attention - Wang Lijun, Mr Bo's former deputy when he was the Communist Party chief in Chongqing.
He also made more accusations against his wife, Gu Kailai.
Embezzlement charges
Much of the early part of the day was taken up by the embezzlement charges levelled against Mr Bo.
He is accused of embezzling a 5m yuan ($800,000; £524,000) sum of money which had been earmarked for a construction project in Dalian, when he was mayor of the city. The money went into Gu Kailai's account.
Wang Zhenggang - who used to work for Mr Bo in Dalian - testified that he had seen him make a call to his wife in which he explicitly said he would funnel money to the family.
But Mr Bo described the testimony as "self-conflicting" and "illogical".
"Is this in line with the way an embezzler would think?... It is not even what the most stupid corruption offender would do," he said.
Mr Bo also said he had no need for the money as his wife was a successful lawyer and his son's study in the UK was funded through a full scholarship.
Mr Bo revealed to the court that he was cautious in dealing with people and maintaining privacy.
"All those who know me know that I ask them to switch off their mobile phones before I speak."
Admission of affair
Bo Xilai admitted during his testimony that he had had an extramarital affair, and that Gu Kilai had taken their son overseas in anger as a result.
"She left after giving me only the courtesy of a notification," Mr Bo said.
"She took Bo Guagua [the son] away, largely because she felt wronged and was acting rashly."
But later on in his statement, Bo Xilai said he still cared for her.
"I do have feelings for Gu Kailai. She is a rather fragile woman," he said.
But he also suggested she had a strong incentive to testify against him.
"If the economic crimes were added to her (charges), she would have certainly been sentenced to death... However if she informs against someone, then she could be released quickly. Who can she choose to inform against then? All the charges against me came from Gu Kailai."
On Friday, he described his wife as "insane", in response to her testimony that he was involved in corruption.
Wife blamed
Bo Xilai then went on to blame his wife for stealing the 5m yuan, and said he had not been involved.
He expressed remorse, however, that he had not acted to stop her.
He told the court he "should take some responsibility" for failing to investigate the money ending up in Gu Kailai's bank account.
"I feel ashamed. I was too careless, because these are state funds," he said.
Police chief's accusations
Former Chongqing police chief Wang Lijun then entered the courtroom to testify against Bo Xilai.
This also marked the first time the charge of abuse of office was addressed during the trial.
Wang Lijun described how he went to Mr Bo's office in January 2012 and told him that Gu had murdered the British businessman Neil Heywood.
Then, after the Chinese New Year break, Mr Wang said he was asked into Mr Bo's office.
"I knew then it was not going to end well," he told the court. "As soon as he [Bo Xilai] came out, he began to swear. It was quite obscene. I remember that after around three minutes, he walked around the left hand side of his desk and came up to me. He suddenly struck me with his fist and hit my left ear."
Mr Wang then went on to describe how Bo Xilai intimidated police officers to say Gu Kailai did not murder Neil Heywood.
M Bo admitted he "did not behave in a calm manner, and made serious errors of judgement" at that time.
"On the matter of abuse of office, I made mistakes, this reflected badly on the image of the party and the state. I feel sorry for that," Mr Bo told the Jinan court.
I couldn't control my temper at that moment. My main thoughts were Wang Lijun wasn't being straight with me.
"I never meant to... protect Gu. I didn't mean to force Wang Lijun away," Mr Bo said.
Days after this confrontation, Mr Wang fled to a US consulate to seek asylum.
Although he admitted mistakes, Mr Bo insisted he was not guilty of the charge of abuse of office.
Firstly, he said, he "did not try to cover up for Gu Kailai".
"Two, I did not fabricate a fake medical certificate [on Wang Lijun's mental state] or publish the Weibo announcing [Wang Lijun is to take] medical leave. Three, I did not try to force Wang Lijun to run, to defect to the US."
Bo Xilai trial as blogged by the court - Day One