Sensational trial of politician Bo Xilai grips China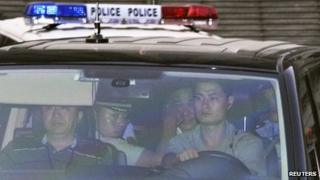 People outside China might wonder why the country's citizens have been so captivated by the trial of the charismatic politician Bo Xilai.
After all, in the West we are used to celebrity trials revealing lurid details about the rich and famous, and sometimes politicians too.
China has also had its high-profile court cases; the wife of Mao Zedong was famously put on trial after her husband's death. Her angry courtroom outbursts were shown on Chinese television.
But this trial is different - and therefore worth following - for two reasons.
Firstly, the authorities are posting online details of the trial - transcripts of dialogue, photographs, even audio and video files. This is a level of openness not seen before.
And secondly, the information emerging from the Jinan Intermediate People's Court in Shandong province is extraordinary in its detail; the kind of detail Chinese people are usually denied when it comes to the lives of their leaders.
Surprising revelations
Court cases in China are usually dull, simply because most discussions about the case appear to happen outside the courtroom, away from public view.
Take the case of the Nobel Peace Prize winner Liu Xiaobo. He was detained at the end of 2008, but it was six months before prosecutors revealed what they were going to charge him with.
It then took another six months before the police finally revealed they had finished their investigation into the dissident's activities.
The authorities might have taken their time investigating the case and coming to their conclusions, but they did not feel it necessary to air all that at a public trial.
Mr Liu's hearing lasted just one day. Foreign journalists and diplomats who went to the court to see the proceedings were not allowed in.
In many trials, particularly high-profile ones, the public gets only a vague idea of the details of a case and the charges levelled against a defendant.
The trial of Gu Kailai, the wife of Bo Xilai, is just one example. That hearing also lasted just a day and there were few details about why she had been moved to murder the British businessman Neil Heywood, beyond the fact that they had a dispute.
We seem to be getting as many details about that case at this trial of Bo Xilai as we are about the charges he faces for corruption and abuse of power.
It is these details that Chinese people are revelling in, and which have surprised so many observers.
A presenter for Phoenix TV, based in Hong Kong, even checked the court's website on her mobile while on air to give viewers the latest information.
We are hearing details about the relationship between Bo Xilai's family and the businessman Xu Ming; how he paid for a villa in France and other goodies in order to curry favour with a senior politician.
We have heard about Mr Bo's failed relationship with his wife, who he now says is "insane". Who knew that before?
And we have seen Mr Bo tear holes in the prosecution's evidence.
If this has been scripted, the author has a future in Hollywood.
All this does not mean that China has suddenly decided to allow court cases to take place without political interference. It is inconceivable that Bo Xilai will be found innocent.
Foreign journalists have been barred from the proceedings and we are only getting the postings that the authorities are giving us.
But what postings, what detail. Do not miss this trial, you might not see another one like it again.
Bo Xilai
Former Communist Party chief of Chongqing and Politburo member
Mr Bo, the son of a famous Communist Party hero, was once a political high-flyer and described as the nearest China had to a Western-style politician. He ran the coastal city of Dalian and was commerce minister before becoming Party chief of south-western metropolis of Chongqing. He was removed from office following Neil Heywood's death and was charged with bribery, corruption and abuse of power.
Gu Kailai
Lawyer and wife of Bo Xilai
Ms Gu, whose father was a prominent revolutionary general, is a well-known lawyer and second wife of Bo Xilai.
She studied at Peking University before opening the Kailai law firm in Beijing. Fluent in English, she and her husband were once one of China's most powerful couples. Last year, she was convicted of Mr Heywood's murder, reportedly over a deal gone wrong, and given a suspended death sentence.
Bo Guagua
Son of Bo Xilai and Gu Kailai
Educated at the exclusive British private school Harrow, followed by Oxford and Harvard Universities, Bo Guagua has been described as one of China's "princelings" - the descendants of revolutionary leaders often criticised for their lavish lifestyles. Since his parents' fall, Bo Guagua has remained in the US, where he is preparing to study law at Colombia University in New York. In a statement issued ahead of Mr Bo's trial, Bo Guagua said he hoped his father would be allowed to defend himself "without constraints".
Wang Lijun
Former Chongqing police chief
Mr Wang, once a popular police chief and Bo Xilai's deputy in Chongqing, began his career in law enforcement in the Inner Mongolia region before moving to Chongqing in 2008. He worked closely with Mr Bo but, after an apparent falling out, Mr Wang fled to the US consulate in Chengdu, near Chongqing, where he raised concerns about the circumstances of Neil Heywood's death. Mr Wang has since been jailed for 15 years, charged with defection, power abuse and bribe-taking.
Patrick Devillers
French architect
Mr Devillers is believed to have met Bo Xilai and Gu Kailai in the 1990s while living in Dalian and reportedly helped design street grids in the port city while Mr Bo was mayor. French documents quoted by the Wall Street Journal and New York Times said he also oversaw the running of a villa in the South of France - allegedly belonging to Mr Bo - between 2001 to 2007. He was detained in Cambodia, where he lives, before voluntarily flying to China in July 2012. Reports say Chinese authorities wanted to talk to him as a witness in the Neil Heywood case.
Jiang Feng Dolby
Television presenter and business woman
Mrs Dolby, born in China but now a British citizen through marriage, is well known in China as a state TV presenter. However, after moving to Britain she ran an educational consulting company, which it is claimed helped get the children of wealthy Chinese couples into leading British and American schools and universities. Mrs Dolby was named in official documents quoted by the Wall Street Journal as the manager of a villa in the south of France that is expected to be one of the key pieces of evidence at Mr Bo's trial.
Dalian
Major seaport in north-eastern China
It was here that Bo Xilai's political career was set on the fast track when he was appointed mayor. Mr Bo was credited with developing Dalian from an unremarkable port city to a showcase for China's economic boom. It was also in Dalian that Mr Bo and Gu Kailai reportedly first met Mr Heywood and Mr Devillers.
Chongqing
Major city in south-western China
Bo Xilai was appointed Communist Party chief of Chongqing in 2007. Wang Lijun, the city's former police chief, was his deputy. Mr Bo became well-known for a high-profile crackdown on crime and advancing the "Chongqing model" of development, which spent heavily on developing public housing and infrastructure. However, his ambition and flamboyant style earned him enemies and raised eyebrows among party leaders back in Beijing. It was in a hotel room in Chongqing that British businessman Neil Heywood was found dead in November 2011.
French villa
Cannes, France
A six-bedroom villa in the south of France is expected to play a role in the trial of Bo Xilai. The $3.5m (£2.2m) property in Cannes was allegedly given to Mr Bo as a bribe. It it claimed to have been bought by Xu Ming, a billionaire backer of Mr Bo in Dalian. French documents quoted by the Wall Street Journal and the New York Times state people close to the Bo family have been involved with the villa since 2001. French architect Patrick Devillers, British businessman Neil Heywood and Feng Jiang Dolby, a former presenter on China's state TV, have all overseen the running of the property, the papers said.
Neil Heywood
British businessman
Having enjoyed a privileged education at Harrow school, Mr Heywood moved to China in the early 1990s where he learned Mandarin, married his Chinese wife Wang Lulu and started a business career. The father-of-two worked as a consultant to foreign businesses seeking investment in China. It was while living in the north-eastern port city of Dalian in the mid-1990s that Mr Heywood met Bo Xilai - then the city's mayor - and his wife Gu Kailai. More than a decade later, Mr Heywood was found dead in a hotel room in the south-western city Chongqing - where Mr Bo had since become Communist Party chief. In 2012, Gu Kailai and an aide were convicted of poisoning him because of "economic conflict".