Bo Xilai trial as blogged by the court - Day Five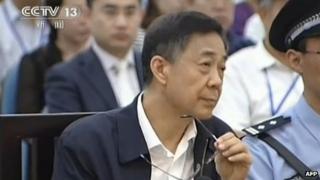 The court at which disgraced Chinese politician Bo Xilai is being tried has taken the unprecedented step of posting updates of his trial on Sina weibo, one of China's Twitter-like microblogs.
The fifth and final day of the trial saw both the prosecution and the defence making closing statements, and Mr Bo also making separate lengthy comments in his own defence.
Prosecutors said Bo Xilai should not be shown leniency because of the seriousness of the charges against him. For his part, Mr Bo once again denied the charges of bribery, corruption and abuse of power.
'Superior orders' redacted
The trial began at 08:30 (00:30GMT) on Monday, with the prosecution making its statement. The court released its first transcript of the day about an hour later, but then removed the post at least once.
When the final version was up, a section appeared to have been removed. This appears to have contained a reference to Bo Xilai saying he was following orders of "superiors" in obtaining a fake medical certificate for his former police chief, Wang Lijun.
The first sign of Wang Lijun's fall from favour - which came ahead of his flight to the US consulate - came in a report in February 2012 that he had been sent for "holiday-style medical treatment".
The prosecution's statement made it clear there should be no leniency towards Mr Bo.
"The defendant's crimes are extremely grave, and he also refuses to admit guilt. As such, the circumstances do not call for a lenient punishment but a severe one, in accordance with the law," it read.
On his wife Gu Kailai's villa in Cannes, the prosecution said Mr Bo knew about it but did not act on the knowledge and did not ask her to return it.
Prosecutors also condemned Mr Bo for withdrawing a pre-trial confession.
"Over the past few days of the trial, the accused Bo Xilai has not only flatly denied a vast amount of conclusive evidence and facts of his crimes, he has also repudiated his pre-trial written testimony and materials," the prosecutor reportedly said.
"We take this opportunity to remind Bo Xilai: the facts of the crimes are objective, and can't be shifted around on your whim."
Mr Bo was allowed to make a lengthy statement in his defence, which lasted roughly an hour, judging from the weibo feed.
The court concluded the trial at about 13:40, but it took some time before Mr Bo's full comments were released.
Wang loved Gu
Some of the most bizarre revelations have concerned the relationship between Gu Kailai and Wang Lijun. He told the court how the pair's relationship was "like a farce".
"She took Wang's shoes to our home, and I told [family employee] Zhang Xiaojun to take them out right away," he said.
He told the court how Gu had "raided" Wang's home and put up 60 or 70 pieces of paper with writing on them, telling him to "watch himself".
"What Gu Kailai did had nothing to do with me," Mr Bo said.
The orthodox version of events that triggered Mr Bo's downfall is that Wang approached him with details of Gu's involvement in the murder of Neil Heywood. Then, frightened at Mr Bo's reaction, Wang fled for his own protection.
Not so, said Mr Bo.
"All the reasons that Wang Lijun gave for his defection cannot stand up to scrutiny. The real reason was that he was secretly in love with Gu Kailai. He was so torn up by his emotions he bared it all to Gu Kailai. He put it down in a letter to Gu Kailai. He also slapped himself eight times across the face," said Mr Bo.
"Gu Kailai said: 'You are a bit insane.' Wang said: 'I had been insane but now I am sane.' To their surprise, I appeared suddenly... He knew what kind of person I am. He invaded my family. He hurt my basic feelings. That's the real reason for his defection."
Mr Bo added: "I slapped him and he defected. I was at fault. But it is also something that one slap revealed a traitor."
'I've been a machine'
One of the key charges against Mr Bo is that he accepted gifts from a wealthy Dalian entrepreneur, Xu Ming, in return for favours. Mr Bo has said consistently that Mr Xu was Gu Kailai's friend, and that he had nothing to do with the businessman.
"To be frank, for the past 30 years I have been a machine. I really have not had the time to think about small things such as who's paying for whose airline tickets or hotel bills. If my mind was on those things, Dalian would not have prospered, the talks that the commerce ministry had would not have progressed," said Mr Bo.
"In her testimony, Gu Kailai says that I knew about Xu Ming paying for her [airline tickets and hotel bills], and she said that she told me about those things every time. But in fact Kailai was constantly overseas between 2000 and 2007. The time she spent in China was rather limited."
Much of Mr Bo's testimony has aimed at distancing himself from his wife, including labelling her as "insane" earlier in the trial.
Communist credentials
Mr Bo then attempted to distance himself from the luxury lifestyle of his son, Bo Guagua.
He listed the claims that Bo Guagua had overspent on his credit cards and had trips to Africa paid for by Xu Ming, saying: "Would I love a son like that?" He said such opulence "goes against our family tradition".
"I can tell you all here, the jacket I am wearing now, and the suits in my closet, were all made in a local factory in Dalian. I have no special interest in clothing. The long-johns I wear now were bought for me in the 1960s by my mother."
Bo Xilai trial as blogged by the court - Day One
Bo Xilai trial as blogged by the court - Day Two
Bo Xilai trial as blogged by the court - Day Three