Bo Xilai trial as blogged by the court - Day Two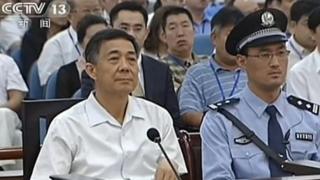 The court at which disgraced Chinese politician Bo Xilai is being tried has taken the unprecedented step of posting live updates of his trial on Sina weibo, one of China's Twitter-like microblogs.
Dramatic details of the first day of the trial were released by the Intermediate People's Court in Jinan, Shandong province, where Bo Xilai put up a spirited defence of himself and even cross-examined a witness.
Much of the second day has focused on the evidence offered by Bo Xilai's wife, Gu Kailai. The information made public is likely to be carefully chosen, but this is the story of Day Two of Bo Xilai's trial.
Gu Kailai relaxed on video
An 11-minute video of Bo Xilai's wife Gu Kailai was relayed to the court in the morning session and released on the Jinan blog.
This video was taken on 10 August 2013, the court states.
Gu Kailai was convicted a year ago of the murder of British businessman Neil Heywood in a trial that was not open to the public. Gu was found guilty and given a suspended death sentence.
In the video Gu makes her statement in a room with dark walls . She appeared relaxed and lucid and when, at the end of the interview, prosecutors asked her to verify if she was under duress or misled, she smiled and said "no".
The session ended with her thanking the prosecutors.
Luxury villa that ignited a row
Much of the morning session has focused on the multi-million dollar villa, Fontaine Saint-Georges, near Nice, France.
Some of the testimony came from French architect Patrick Devillers who set up a property company to purchase the villa with Gu Kailai where they each held 50% of the shares - the court heard that this was to avoid paying French property tax and to ensure no one in China knew that Bo Xilai and Gu Kailai owned such property overseas.
But later Gu Kailai transferred her share to Neil Heywood - this appears to be to because she was worried the villa and its ownership might be investigated. Eventually this led to the undoing of the relationship, the court was told.
From testimony provided by ex-police chief Wang Lijun, it appears as if Gu Kailai thought that Mr Heywood and Mr Devillers were making money from the villa that she did not see. He cites her saying they demanded money from her.
Wang Lijun had a conversation with Mr Bo about this and he quotes politician's reaction: "They used to be such good friends. How can it change overnight? I don't understand it. Kailai always used to say how good Neil and Devillers were and now she keeps saying how bad they are! I solved so many problems for them. How did it come to this?"
The Devillers testimony casts light on more bad blood, after Gu reportedly retracted Mr Heywood's share of the property company.
"Neil was walking and swearing angrily, venting his anger towards Gu Kailai. He said he was duped by her. He threatened that if his demands were not met, he would 'reveal' all. I sensed things were going to go wrong."
Mr Bo's defence team have argued that some of Devillers' testimony is inadmissable in court, because it was based on photocopies.
Later, Mr Bo's defence lawyer told the court that Wang Lijun's testimony had erroneously given the impression that Gu Kailai killed Neil Heywood because of the dispute regarding the French villa and Mr Heywood's threat.
"The defence lawyer said that was not true. He said the demand for £1.4m made by Neil Heywood in an email to Bo Guagua was the commission for another project, and had nothing to do with the property in Nice," the court transcript said.
'Neil Heywood was a threat'
In written testimony provided in February 2013 Gu Kailai told prosecutors she thought Neil Heywood was a threat to her son, Bo Guagua. She describes her state of mind in the months leading up to what she called the "November 15 crime" - the murder of Neil Heywood.
Prosecutor: Did Bo Xilai know Neil Heywood?
Gu Kailai: Guagua once took Neil Heywood to our home in Chongqing. Bo Xilai met him but he never talked to him. Neil Heywood mainly had contact with me and Guagua.
Prosecutor: Did Bo Xilai know about the conflict between you, Bo Guagua and Neil Heywood or that Neil Heywood was threatening Bo Guagua?
Gu Kailai: "In 2011 Guagua's personal safety was under threat. Bo Xilai knew about that. We drew up a list of suspects and Neil Heywood was certainly among them... In the second half of 2011 Guagua made a video call to me on his iPad telling me that Neil Heywood threatened him. The picture flashed and the call was cut off. I was very worried about Guagua's safety."
She talks about email exchanges between Neil Heywood and Guagua, which made her very worried and this, she says, "led to the 15 November crime".
Gu kailai is 'crazy' and a 'liar'
But her husband dismissed Gu Kailai as "crazy", saying "she often lies".
Bo Xilai: "About Gu Kailai's testimony and her previous written statements and confessions, how much credibility do they have? Gu Kailai has changed. She is crazy. She often lies. Her mental state is not stable."
He claims that investigators put her under so much pressure, she had to turn on him. And then he cites an extraordinary statement by Gu Kailai as evidence of her unstable mental state.
"Gu Kailai once said that when she killed Neil Heywood she felt like Jing Ke. This is enough to prove that she is not in a sane state of mind."
Jing Ke was a famous assassin who tried but failed to kill China's first emperor, Ying Zheng, 2,000 years ago but who is popularly seen as a hero in Chinese culture.