China flash floods kill 21 workers in Qinghai province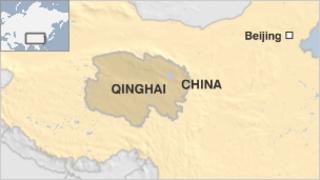 At least 21 construction workers in north-west China have been killed by flash flooding that swept through a remote part of the province of Qinghai, state media have reported.
The official Xinhua news agency said that they were "washed away" after a sudden torrential rain storm.
The area lies in high mountains 2,500km (1,500 miles) west of Beijing.
Flash floods are a frequent threat both to residents there and to travellers drawn by its mountain scenery.
On Monday at least 105 people were killed and 115 were missing after floods and a typhoon hit various parts of north-eastern and southern China, state media reported.
Chinese Premier Li Keqiang has called for "persistent efforts" to save people in the north-east from what Xinhua described as "the worst floods in decades".
Weather experts have warned that another storm is expected to hit China on Thursday.