China knife attack: Police arrest suspect in bus rampage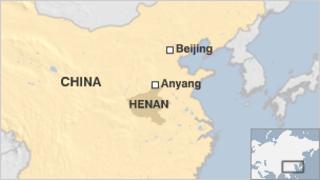 Police in China have arrested a man suspected of launching a brutal knife attack on a bus that left at least three dead, state media say.
A 10-month old baby, a 10-year-old boy and an 18-year-old were killed. The motive behind the attack is unclear.
At least 12 people were injured after the attack on Monday in central Henan province, Xinhua news agency says.
It is the latest in a spate of apparently random violent attacks across China in recent months.
The man, 24, from Anyang city, tried to grab the steering wheel from the driver while the bus was on a busy road, reports say.
When he failed to do so, he started stabbing passengers. Five of those injured are reportedly in critical condition.
Officials had offered a 100,000 yuan ($16,300, £10,000) reward for information leading to the man's capture, and hundreds of police were involved in the manhunt, Xinhua says.
In July, a man said to be mentally ill, injured several people in Shenzhen, Guangdong province. This came two days after another man was arrested in Henan province for a knife attack that killed five.
A villager in Guangxi province was also arrested after he stabbed to death two officials enforcing China's one-child policy.
A man also stabbed four people at a Carrefour shopping centre in Beijing, leaving one person dead and three wounded.