China media: Floods disaster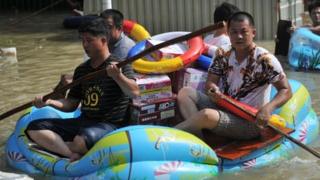 Media highlight public anger over flood relief efforts as photos of "floating corpses" appear online.
The official news agency Xinhua says the worst flooding in decades has ravaged swathes of China on an almost unprecedented scale and killed at least 105 people.
But authorities, especially in the southern province of Guangdong, are under fire from internet users over inadequate disaster relief efforts.
"Disaster response mechanisms are in all parts of China and they are in operation, but public satisfaction is not high enough, criticism is rising everywhere and many rumours surrounding the flood are also spreading online," observes the Global Times.
An internet user's photo circulating online of what appears to be two floating corpses has also attracted public criticism over alleged neglect by the authorities.
The microblog user who posted the photo says the bodies are of two sisters who were electrocuted and drowned in floodwaters while trying to return home in Puning in the southeast part of Guangdong.
But authorities in Puning tell The Beijing News that they have not found the said corpses and also reject public criticism over flood relief.
Hong Kong's Apple Daily says many internet users have also posted microblog comments accusing the media of only reporting on the suspension of the Guangdong-Beijing railway service because of a landslide and "completely ignoring the local disaster".
They also complain that rescue teams have not arrived at many disaster scenes and left stranded citizens to fend for themselves.
Singapore model?
In other news, the Beijing Times calls for a fuller investigation into how police in Linzhou, Henan province, failed to investigate officer Guo Zengxi for allegedly taking a baby from her parents and dropping her on to the pavement after drinking alcohol on 18 July. Officer Guo was detained on Saturday.
Officer Guo was hospitalised after enraged onlookers beat him up. The baby suffered multiple head injuries, including a fractured skull and bruising to the brain, and may suffer after-effects from the trauma.
Three top police officials have been suspended so far for mishandling the investigation.
Finally, Singapore's latest development blueprint unveiled in Prime Minister Lee Hsien Loong's annual National Day Rally policy address has stirred up debate on how Hong Kong can avoid falling behind its regional rival.
The Ming Pao believes that greater political liberalisation is the key to solving much of the policy gridlock and rising political tensions in the city.
"A chief executive and Legislative Council elected by universal and equal suffrage cannot solve all problems, but a chief executive and Legislative Council elected by privileged groups and a small circle cannot even solve basic problems," it concludes.
However, the Wen Wei Po, a Beijing-backed daily, repeats its call for society to focus on economic development and to prevent "political interference" from "radical" pro-democracy politicians and activists from derailing the government's policies.
BBC Monitoring reports and analyses news from TV, radio, web and print media around the world. For more reports from BBC Monitoring, click here. You can follow BBC Monitoring on Twitter and Facebook.