Murdered Briton Neil Heywood's mother in China appeal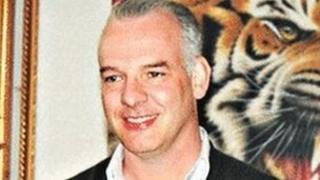 The mother of a British businessman killed in China in a case that felled high-profile politician Bo Xilai has spoken publicly for the first time.
In a statement to the Wall Street Journal, Ann Heywood called on Chinese authorities to offer "substantive" help to her son's family.
Mr Bo's wife, Gu Kailai, has been jailed for the murder of Neil Heywood in Chongqing in 2011.
Chongqing's police chief has also been jailed over a subsequent cover-up.
The murder of Neil Heywood - reportedly over a business deal gone wrong - led to a shake-up at the very top of China's political elite in the months preceding a once-in-a-decade leadership handover.
It caused the downfall of Bo Xilai, the Chongqing Communist Party chief once seen as a candidate for the highest levels of power.
Last month, China announced that Mr Bo had been charged with bribery, corruption and abuse of power.
No trial date has been set for the former high-flier, who has not been seen in public for over a year.
'Hurt and horror'
In her statement to the US newspaper, Ann Heywood said she had remained silent until now because she did not want to cause "unnecessary embarrassment" to the Chinese authorities, even as it became apparent her son's death had been murder and then the subject of a "systematic cover-up".
"While struggling to come to terms with my own grief, my overriding concern has been for the security and well-being of Neil's two children," she wrote.
"Now aged just 8 and 12, they are particularly vulnerable to the hurt and horror of their father's murder and, since Neil was the family's sole breadwinner, to uncertainty and insecurity, there being no financial provision for their future."
Despite repeated discreet approaches, she said, there had been "no substantive or practical response" from Beijing.
Ms Heywood called on the authorities to "show decisiveness and compassion, so as to mitigate the consequences of a terrible crime and to enable my family finally to achieve some kind of closure".
Neil Heywood was married to a Chinese national, Wang Lulu. Media reports suggest she and her children remain in Beijing.
The British embassy in Beijing said it had been in contact with Chinese authorities on Mr Heywood's family's behalf.
"We've made the Chinese authorities, through the Ministry of Foreign Affairs, aware of the family's concerns on several occasions since the trial, most recently twice during July," Reuters news agency quoted an unidentified embassy spokesman as saying.
Neil Heywood was found dead on 15 November 2011 at a hotel in Chongqing.
Gu Kailai was convicted in August 2012 of poisoning him to death because of "economic conflict" and given a suspended death sentence.
Chongqing's former police chief Wang Lijun, whose flight to the US consulate in February 2012 brought the killing into the open, has been jailed for 15 years on charges including abuse of power.