China media: Territorial disputes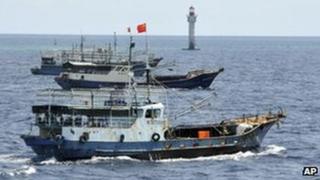 Media are warning against external "disturbances" and haste over a proposed code of conduct for nations involved in South China Sea territorial disputes.
At the end of his six-day tour of South East Asia, Chinese Foreign Minister Wang Yi said Beijing was positive and open to dialogue with the Association of South East Asian Nations (Asean) on a proposed code of conduct for handling territorial disputes in the South China Sea.
However, the Oriental Morning Post says Mr Wang also warned that some countries were "unrealistic" in wanting to rush through the code. He called for an incremental approach to the code before settling on a final accord.
"It is not in the interest of any countries involved in the disputes to kick up a row or try to make negotiations difficult. Rather it is better for them to sit down and consult on a code of conduct that can be accepted and observed by all parties," says the China Daily.
The South China Morning Post says Mr Wang also complained of "disturbances" from irrelevant parties hindering previous efforts to discuss the code, in a "thinly veiled message" to the US, a close ally of the Philippines.
The Philippines has also come up against Beijing's opposition for seeking international arbitration in its territorial disputes with China.
Meanwhile, media in China and Hong Kong are continuing to discuss food safety problems amid a recall of tainted dairy products by New Zealand firm Fonterra.
Staying with Hong Kong news, The South China Morning Post says whistle-blower Li Jianjun has lodged complaints with Hong Kong's Independent Commission Against Corruption about alleged irregularities and corruption in a mining assets purchase by state-run conglomerate China Resources Power Holdings. The firm has called the allegations slanderous.
'Reform' labour camps
Elsewhere, The Beijing News says the Chinese Academy of Social Sciences, a government think-tank, is warning that the detention of prisoners in labour camps is "posing a huge threat to civil liberties" and calls for the "re-education through labour" system to be reformed.
The South China Morning Post says opposing editorials in key publications on the issue of "constitutionalism" - constitutional checks on a government's power - are revealing an "ideological rift" within the Communist Party.
"This concept of constitutionalism is an information psychology warfare weapon used by a US monopoly capitalist oligarchy and its proxies in China to subvert China's socialist system," warns a commentary in the People's Daily Overseas Edition.
The media have come to the defence of a man who has been petitioning authorities for compensation after his grief-stricken wife became schizophrenic one month after she was forced to undergo a painful abortion of their seven-month-old unborn baby in 2011.
Wu Yongyuan spoke of his frustration to Chengdu Full Search News after authorities in Lianyuan county, Hunan province, denied any "causal relationship" between his wife Gong Qifeng's mental illness and the forced abortion of their second child.
"A mother who was forced to have an abortion has lost her sanity, and the local government and officials are as indifferent as ever. When will they be capable of realising the crimes that they themselves are implicated in?" comments The Beijing News.
The State Family Planning Commission previously vowed to end forced mid or late-term abortions under the one-child policy after a heavily pregnant woman in Ankang, Shaanxi province, won compensation for being forced to abort her baby last year.
And finally, a woman in Yuncheng, Shanxi province, complains to the Global Times how her former brother-in-law allegedly dug up the grave of his late wife and sold her for a "ghost marriage" with the dead son of another family.
Some ancient traditions say that unmarried dead children cannot be buried in their clan graves, which is considered "unlucky" for the family's offspring.
"The different conditions of corpses result in various prices, with fresh corpses being much more expensive than the skeletons. Young female corpses fetch the highest prices. This grim state of affairs can even provide a motive for murder," notes the Global Times.
In June, police in Ruicheng county, Shanxi province, rescued an 18-year-old woman with a mental disability who was about to be killed for a "ghost marriage".
BBC Monitoring reports and analyses news from TV, radio, web and print media around the world. For more reports from BBC Monitoring, click here. You can follow BBC Monitoring on Twitter and Facebook.