China media: Snowden saga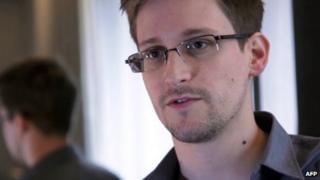 Media in China see further embarrassment for the US after whistleblower Edward Snowden gets temporary asylum in Russia.
State media have contrasted the Russian government's "deft" handling of Mr Snowden's case with the constant "embarrassment" suffered by Washington.
"So far, the US has exhausted its tricks, but there is still no outcome on the extradition of Mr Snowden. It can be described as suffering constant embarrassment in this drama. In contrast, Russia has handled things with ease," says Xinhua News Agency.
Some newspapers are questioning double standards from the US about its global cyber-surveillance operations.
"The US still has to give a truthful explanation to all the countries and regions whose networks and computers were infiltrated. The US must stop acts that violate human rights in other countries and interfere in other countries' affairs," says the Wen Wei Po, a Beijing-backed Hong Kong newspaper.
"What is ironic is that if Bradley Manning, Mr Snowden and Julian Assange were pursued by other governments, such as China and Russia, the White House and Foggy Bottom would be applauding them and calling them not just whistleblowers, but heroes and fighters for human rights," comments Chen Weihua, deputy editor of China Daily USA.
Meanwhile, an official Xinhua news agency signed article warns that China will face a collapse "even worse than the Soviet Union" if democracy is allowed.
"Angels, opinion leaders and public intellectuals have been fabricating rumours and fabricating negative news on society every day on microblogs to create an apocalyptic scene of China's imminent collapse, denigrate the existing socialist system and propagate a model of European- and US-style capitalist constitutionalism," the article says.
"They have constantly fanned public hatred towards the current political regime," it adds.
Hong Kong's South China Morning Post notes that the Xinhua article, which was signed "Wang Xiaoshi", appears to have originated on 15 July with a post on a personal blog registered to someone by the same name. It was widely circulated on mainland news portals.
The Global Times also warns against growing support for Western-style "liberalism" and constitutionalism in Chinese society.
"It is increasingly difficult for Western doctrine to provide an accurate interpretation, let alone guide us... We must not underestimate ourselves and be fooled by the West. The power of Western discourse does not mean that they really hold the truth," says the newspaper.
'Debunking' online rumours
Elsewhere, six of China's biggest internet service providers, including Sina Weibo, Sohu and Baidu, have launched a joint internet platform for debunking "online rumours" and "false information".
"This is a laudable step. Rumours can impose severe side effects on the social regulation. They can cause widespread panic, disturb the order of society and damage the government's credibility," says the Global Times.
The State Information Internet Office has also closed down 107 "illegal news and information websites" since May this year. One of the closed websites was used by a whistle-blowing journalist to expose a sex video tape scandal that led to the downfall of many officials in Chongqing.
"Many netizens have strongly criticised the State Information Internet Office for suppressing freedom of speech in a similar way to the "Burning of the Books and Burying of Confucian Scholars' during the Qin Dynasty", Hong Kong's Oriental Daily News notes.
The Southern Metropolis Daily and The Beijing News say many internet users are accusing authorities of covering up the suspicious death of a watermelon street seller in Hunan on 17 July.
Witnesses claim that urban inspectors or chengguan struck the vendor, Deng Zhengjia, on the head with a metal weight while trying to shut down his stall.
However, internet users are questioning an autopsy released on Thursday that says Mr Deng's head injuries caused by an unspecified "external force" were "relatively minor" and "non-fatal".
Finally, the Southern Metropolis Daily welcomes First Lady Peng Liyuan's debut in US magazine Vanity Fair's best-dressed list.
"Peng is not the first Chinese leading lady to make the list, but she has raised plenty of eyebrows by beating America's first lady, Michelle Obama," the South China Morning Post adds.
BBC Monitoring reports and analyses news from TV, radio, web and print media around the world. For more reports from BBC Monitoring, click here. You can follow BBC Monitoring on Twitter and Facebook.