China media: Heat crisis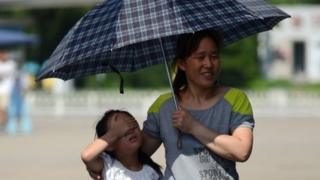 Media say a spate of violent incidents and the government's slow response to a heatwave are putting the public on edge.
"In some local places, public servants have reduced their working hours because of high temperatures, which has stirred criticism. A subway station in Hangzhou is said to have turned off its air conditioning to prevent people from going there to enjoy the cool. Such reports have aroused public anger," notes the Global Times.
"If the government acts slowly, problems generated by high temperature may turn to political matters," it warns.
"Yes, this summer has indeed put citizens on edge. The reason for this is not only sustained high temperatures, but also a spate of vicious incidents," the Southern Metropolis Daily adds.
The newspaper cites a number of recent violent cases, including a Hunan watermelon vendor who died during a dispute with urban inspectors or chengguan on 17 July.
Witnesses at the scene ran riot after claiming to see one inspector strike the vendor on the head with an iron weighing measure.
Following initial denials of wrongdoing by chengguan authorities, an autopsy has finally shown that the vendor was killed by an external blow to the head, says the People's Daily.
'Mudslinging'
The Beijing News says Betsy Li Heng, the daughter of late Communist Party leader Hu Yaobang, has denied any connection to an investigation into bribery by UK drug firm GlaxoSmithKline (GSK).
The statement, dated 26 July, first appeared on social media sites and has attracted widespread attention. The statement was not signed but it said it was issued on behalf of Ms Li and her family.
The statement says Ms Li left GSK as the firm's corporate affairs director in China in 2007 and had had no business dealings with the company since then.
"The allegations are the latest in a series of adverse reports circulating online on the offspring of the reformist party elder, whose death triggered the Tiananmen protests in 1989," notes the South China Morning Post.
Hong Kong's Apple Daily adds that online rumours have circulated about relatives of late leader Deng Xiaoping. It suspects that a "mudslinging war by Maoist leftists" against the families of Hu Yaobang and late paramount leader Deng Xiaoping is heating up in the run-up to a corruption trial of disgraced former regional leader Bo Xilai.
Around 30 Chongqing policewomen were detained and physically assaulted by police after protesting on Tuesday. The policewomen were employed when Bo Xilai and his police chief Wang Lijun were in charge of the city. They say their wages and benefits were cut after the downfall of the two men.
"We are now labelled 'Wang's mistresses', and as a consequence, have trouble finding new jobs or boyfriends," one policewoman complained to Hong Kong's South China Morning Post. Phone calls to the Chongqing police bureau went unanswered, the newspaper adds.
The environment ministry says air quality in 74 major cities was unsafe for nearly half of the days in the first six months of this year.
The People's Daily says the Beijing Tianjin-Hebei region ranked worst with clean air for only 31% of the days in the first half.
Safety concerns are arising over a new order by eight major airports, including Beijing Capital International Airport and Shanghai's Pudong Airport, for airlines to take off on time even if they have no landing slot at their destination.
"There will be even greater fuel compensation and more security risks for airlines from 'queuing mid-air' as opposed to 'queuing on the ground'... With a likely increase in operating costs, airlines may shift additional costs onto passengers, which is obviously unacceptable," says The Beijing News.
The People's Daily says the government has issued etiquette reminders to curb the "uncivilised behaviour" of some Chinese tourists, which include "boycotting feudal superstitious activities".
BBC Monitoring reports and analyses news from TV, radio, web and print media around the world. For more reports from BBC Monitoring, click here. You can follow BBC Monitoring on Twitter and Facebook.