China media: Japan tensions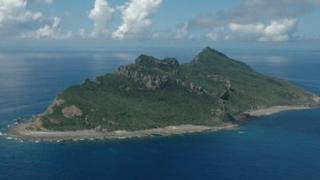 Media doubt Tokyo's sincerity to mend ties amid anger over remarks by Japanese Deputy Prime Minister Taro Aso.
Following Japanese Vice-Foreign Minister Akitaka Saiki's talks with senior Chinese officials in Beijing about the possibility of a summit between the two countries' leaders, Xinhua news agency and other state media continue to call on Tokyo to take real action to mend relations.
A long-standing territorial dispute over islands known as the Senkaku islands in Japan and the Diaoyu islands in China has strained relations between the two countries.
"The key now is that Japan must acknowledge the Diaoyu Islands dispute and show sincerity and action to repair relations," says the Wen Wei Po, a Beijing-backed Hong Kong newspaper.
The People's Daily rebukes Mr Aso for suggesting that the ruling Liberal Democratic Party learn how the Nazis quietly revised Germany's constitution under the Weimar Republic.
Japan's current post-war constitution forbids the use of force to resolve disputes except in cases of self-defence, but some lawmakers feel it should be revised to widen the scope of permissible military activities.
Mr Aso is also under fire for defending visits to the Yasukuni Shrine, which houses Japan's war dead - including several convicted war criminals.
"Taro Aso's speech is the most outrageous one to date regarding Japan's constitutional amendments, and it is bound to trigger a high degree of concern and strong condemnation in the international community," comments Liu Jiangyong, a professor of Japanese studies at Beijing's Tsinghua University, in the People's Daily.
Meanwhile, Chinese PC maker Lenovo tells the Global Times that it has yet to receive notice of "official bans" from foreign countries over the use of its equipment in the computer systems of intelligence agencies.
The Australian Financial Review alleged on Saturday that intelligence agencies in Australia, the US, the UK, Canada and New Zealand have been banning Lenovo equipment from their secret and top secret networks amid concerns that it can be hacked via a hardware "backdoor".
"The official background of Lenovo, with the government-backed Chinese Academy of Sciences owning a big portion of stake in the company, is believed as the main reason why it is mistrusted by Western governments," comments the Global Times.
However, the Australian Department of Defence denied the alleged ban when contacted by Hong Kong's South China Morning Post.
Public safety concerns
The Southern Metropolis Daily and the Huashang Daily say public panic about the safety of paraxylene (PX) projects have been triggered again after a pipeline explosion at a soon-to-be-opened PX plant on Tuesday in Zhangzhou, Fujian province. Paraxylene, or PX, is mainly used to manufacture polyester.
The Zhangzhou project was relocated from the neighbouring coastal city of Xiamen in late 2007 following mass protests by residents.
The Chinese Academy of Social Sciences has cast doubt over the government's touted rates of rapid urbanisation.
The Beijing News says the state think-tank blames rising social conflicts and friction on the exclusion of many migrant workers who still cannot enjoy the same rights and benefits as urban residents.
Many newspapers, including the China Youth Daily, the Beijing Times and The Beijing News sympathise with the plight of an alleged airport bomber petitioner who was formally arrested on Tuesday, while also discouraging acts of violence to express grievances.
Ji Zhongxing was arrested on Monday for allegedly setting off a home-made bomb at Beijing's international airport on 20 July. Mr Ji says authorities failed to help him to seek justice against security guards who allegedly crippled him during a fight.
Beijing police are also seeking to press "fabrication of terrorism information" charges against rock singer Wu Hongfei for writing a microblog post about wanting to "blow up" a local housing commission.
"In the Ji and Wu cases, there have been voices online that support them. Some claim the law should follow Internet opinions. This view is nothing but nonsense. In fact, the public is confused about the boundary between freedom of speech and threatening to commit violent crimes," comments the Global Times.
Hong Kong's Oriental Daily News says hundreds of residents in Changsha, in Hunan province, clashed with riot police while braving a scorching heat wave on Monday to protest against a government-led plan to build broadcast towers in the city centre.
A petrol-doused villager threatened to self-immolate when villagers in Ronggui, Guangdong province, fought off police while trying to stop a government land takeover, Hong Kong's Ming Pao reports
And finally, The Beijing News says a heat wave in eastern and southern China has reached emergency levels. It features photos of pork, eggs and shrimp cooking within minutes on the sizzling streets of Shanghai, and even a chick embryo that hatched in an egg yolk due to high temperatures.
BBC Monitoring reports and analyses news from TV, radio, web and print media around the world. For more reports from BBC Monitoring, click here. You can follow BBC Monitoring on Twitter and Facebook.