Man tried over China-Japan tainted dumplings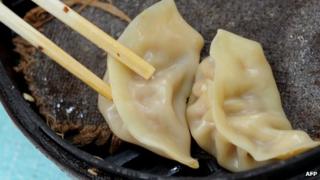 A trial has been held of a Chinese man accused of poisoning dumplings that made 10 people ill in Japan, Japanese and Chinese media say.
Factory worker Lu Yueting admitted putting insecticide in frozen dumplings that were later exported to Japan, Xinhua news agency said.
The incident in 2008 led to a scare over Chinese food and strained diplomatic ties between the countries.
The trial comes as a senior Japanese minister visits China.
Lu Yueting worked in the Tianyang Food company in Hebei province, northern China, from 1993 to 2009.
He was accused of using a syringe to put insecticide into the frozen dumplings over frustration with his wages and colleagues.
In January 2008, at least 10 people in Japan fell ill after eating the dumplings. One five-year-old girl was seriously ill and received hospital treatment.
Investigators found that the dumplings contained a highly toxic pesticide, methamidophos.
Diplomatic relations were strained as both sides debated whether the contamination occurred in their territory.
Lu was arrested and charged in China in 2010. His trial opened in Shijiazhuang, Hebei, on Tuesday.
He pleaded guilty and apologised to the families of the victims. Lu said he had not thought that his actions would have such a big impact, and hoped the court would be lenient with him, Xinhua, the Chinese state-run news agency, reported.
His lawyer said that Lu had co-operated with the authorities, shown remorse and had no previous convictions, and the court should take that into account, Xinhua added.
The trial concluded within three hours, although no sentencing date was announced.
Summit call
The trial comes on the second day of a visit by Japanese Vice Foreign Minister Akitaka Saiki to China, amid strained ties.
Sino-Japanese tensions have been heightened owing to a territorial dispute over an uninhabited island chain in the East China Sea.
Shinzo Abe, Japan's prime minister, has been seeking to improve relations, and has called for "unconditional, frank dialogue" between the two countries.
Isao Iijima, an adviser to Mr Abe, said on Sunday that a leaders' summit could be held in the "not too distant future".
However, a Chinese government official appeared to rule out the possibility of a summit soon.
The official, who declined to be named, told the state-run China Daily newspaper that Japan was brandishing "empty slogans" and that the statements were "based on the needs of Japan's domestic politics".