China media: 'Vicious incidents'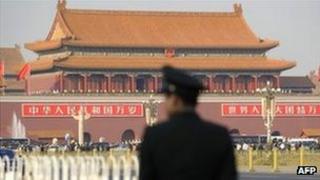 The arrest of a singer for venting anger online at the government and a road rage attack on a toddler are triggering more concern over social stability in the media.
Following a spate of violent incidents, the Ministry of Public Security has launched a summer crackdown on "extreme violence", including terrorism, arson, gun and bomb attacks and assault.
The Global Times defends the Beijing police for detaining singer Wu Hongfei on Monday after she wrote on her microblog that she wanted to blow up government housing commission offices for their incompetence.
"When cases of indiscriminate revenge on society are occurring successively in various places, the Ministry of Public Security's requirements and the Beijing police's arrest of Wu Hongfei have sent a symbolic signal... Even if she was really just 'saying angry words', we cannot see a strong reason why she should be forgiven and get legal immunity.
"This has nothing to do with freedom of speech. All countries that have the rule of law will not allow such threatening speech," it stresses.
A road rage attack on a toddler is also triggering further concern.
A man surnamed Han in Beijing was arrested for allegedly attacking a woman and snatching her two-year-old daughter from a pram and dropped her on the pavement following a dispute over parking on Tuesday. The girl is still in intensive care.
"When we place this violent incident in a context of relentless social changes and various frequent vicious incidents by individuals, we feel a profound sense of powerlessness... Punishment in accordance with the law is indeed necessary, but 'resolving root causes' is the way to treat the problem," comments The Beijing News.
Months earlier, a man in Jilin province murdered a two-month-old baby found in a car.
The Beijing Times questions why people can be pushed to such extreme acts of violence and recalls how scores of passers-by walked past a two-year-old girl called Little Yue Yue who was run over on the street.
North Korea meeting
In international news, Chinese Vice-President Li Yuanchao on Thursday met Kim Jong-un in Pyongyang in the highest-level visit since the North Korean leader took power
"Li is likely to repeat China's position of denuclearisation of the Korean Peninsula and urge the North to return to the six-party talks in meetings with North Korean leaders," Zhang Lianggui, of the Communist Party's central party school, tells the Global Times. However, the North Korea affairs expert is pessimistic about Pyongyang dismantling its nuclear programme.
Meanwhile, more state media have come out in support of the Communist Party following the indictment of former Chongqing party boss Bo Xilai on corruption charges.
"The indictment of Bo Xilai shows once again that everyone is equal before the law, there are no exceptions before the system, and no one has the privilege to override the law," says a front-page People's Daily commentary that has also appeared on the front page of the Liberation Army Daily.
The Liberation Army Daily says the Chinese defence ministry has defended the right of its aircraft to conduct "routine" flights near disputed islands under Japan's control. The statement was in response to Tokyo's concerns over a Chinese early warning plane flying in the region on Wednesday.
Chinese coast guard ships also conducted their first patrol near disputed islands known as the Diaoyu in China and the Senkaku in Japan since the fleet was revamped.
Mainland rights activist Hu Jia and more than a dozen supporters say police detained them for a few hours when they were celebrating his 40th birthday at a restaurant in Shenzhen.
One activist tells the South China Morning Post that police interrogated them on whether they were discussing Xu Zhiyong. Mr Xu led a campaign to call on senior officials to publically disclose their assets before he was detained last week.
Controversy continues over plans to build the "world's tallest building" in Changsha, Hunan province.
The official Xinhua news agency says there is no planning permission for the project, but property developers disagree, says the South China Morning Post.
The Guangming Daily says the suspension of the project is "good", which it believes is a waste of money. The Guangzhou Daily says the building's safety standards are open to question.
BBC Monitoring reports and analyses news from TV, radio, web and print media around the world. For more reports from BBC Monitoring, click here. You can follow BBC Monitoring on Twitter and Facebook.