China media: Nuclear plant anger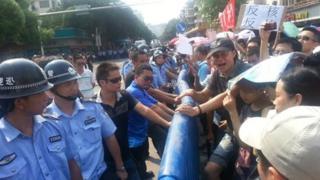 Media rebuke authorities in Jiangmen for failing to consult the public over a controversial nuclear processing plant.
Many media outlets are discussing how authorities in Jiangmen, Guangdong province, on Saturday were forced to cancel plans to build a state-run nuclear fuel processing plant after three days of peaceful street protests by thousands of residents.
On Sunday, the deputy mayor of Jiangmen even presented a document to the protesters confirming the closure in order to dispel suspicions that the project might still go ahead, says Hong Kong's Ming Pao.
Hong Kong's Apple Daily says the protesters celebrated the cancellation on Sunday as a "victory for democracy" against a "fake consultation".
Beijing's People's Daily, the Communist Party's official newspaper, says the plant would have posed no threat to public health and that its suspension would incur massive losses.
However, the government's inadequate public consultation over the project led to "excessive anxiety" among residents, it adds.
A bilingual Global Times editorial also blames the authorities' "opaque and unreasonable decision-making process" for the closure. It also warns that the government will soon lose its credibility if it bows quickly to public demands.
Villagers complain to Hong Kong's Sunday Morning Post that their hopes for a better life have been dashed because they will lose out on relocation compensation from the uranium plant project.
The protesters tell the Post that the villagers are unaware about potential risks from nuclear energy and only care about compensation.
A bilingual Global Times editorial and other state media are promoting Communist Party leader Xi Jinping's latest anti-corruption slogan, borrowed from late leader Mao Zedong.
Chairman Mao once described the party's decision to move to Beijing in 1949 as "going for an exam" in the capital city.
During his recent inspection tour of Xibaipo, a former revolutionary base in Hebei province, Mr Xi said the party's governance faces "unprecedented problems" and must still undergo an "exam" set by the public.
Hong Kong's Apple Daily notes sceptically that every rectification purge launched after leaders' visits to Xibaipo have failed to stem the party's corruption and alienation from public opinion.
Beijing-based political commentator Zhang Lifan tells Hong Kong's South China Morning Post that the party appears to be short of ideas. He believes that the revival of Chairman Mao's policies are unlikely to get support from low-level authorities, who will just treat it as another formality.
Anger over execution
Media are also highlighting the anger expressed by the family of a millionaire after a court failed to notify them about his execution on 12 July.
Zeng Chengjie, a property developer in Hunan, was convicted in 2011 for illegally raising 3.45bn yuan ($562m; £371m) and was executed by lethal injection last Friday, the Global Times reports.
Commentaries in the Beijing Times and The Beijing News criticise the court later for stating on its official microblog that the law has no clear procedures for prisoners being executed to be allowed to meet their family one last time.
The court later apologised for the statement and stated that Mr Zeng had not requested to see his family.
The Southern Metropolis Daily notes that executions for "economic crimes" have become rarer in recent years and that "inhumane executions" are likely to be phased out further due to growing public aversion.
A number of well-known public figures and lawyers and even the People's Daily have questioned the execution's legality, the South China Morning Post adds.
And finally, the Southern Metropolis Daily is dismayed at an expose by Beijing's Economic Observer on staff at the Shaolin Temple discovering secret video cameras installed around the complex, including above the headboard of the abbot's bed.
Last week, the Economic Observer ran a feature on the increasing "commercialisation" of Shaolin after monks reportedly petitioned local authorities to demand revenue from ticket sales to the temple.
BBC Monitoring reports and analyses news from TV, radio, web and print media around the world. For more reports from BBC Monitoring, click here. You can follow BBC Monitoring on Twitter and Facebook.