Search for China landslide missing in Sichuan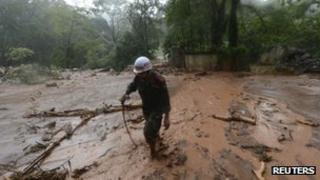 The death toll from a landslide caused by heavy rain in China's Sichuan province has risen to 12, state media report, with 11 people still missing.
Wednesday's landslide in Dujiangyan city covered an area of two sq km (0.8 sq miles), reports say.
It followed days of bad weather that has led to flooding which has damaged hundreds of homes in southwest China.
The weather has forced the evacuation of more than 36,000 people in Sichuan and Yunnan provinces.
Rescuers had found a total of 12 bodies at the site of the landslide in Zhongxing town, Dujiangyan, state-run news agency Xinhua reported.
Officials say search and rescue operations are ongoing, with life detection instruments being used to locate survivors.
There are about 1.5 million cubic m (329 million gallons) of mud, rock and debris covering the area affected by the landslide, an expert quoted by Xinhua said.
Earlier on Thursday, state media reported that more than 60 people were missing across Sichuan province as a result of the weather.
'Buzzing noise'
A local villager in Dujiangyan, Gao Shiquan, said that he ran outside his home after he heard the landslide.
"I could see the hill opposite me had collapsed. There was a buzzing noise for around two or three minutes. My first feeling was that the hill had collapsed and the entire hillside was buried," he told Xinhua news agency.
Rescuers had safely relocated over 350 tourists affected by the landslide, the Dujiangyan local government announced on its website.
More than 1,000 blankets had been distributed to Dujiangyan, while neighbouring Wenchuan county, which had also been hit by floods, received 500 disaster relief tents and 500 quilts, state media said.
Dujiangyan official Liu Junlin told reporters on Wednesday that the rainfall in the city was the highest since national weather records were established in 1954.
On Wednesday, more than 2,000 people were trapped in a tunnel expressway connecting Dujiangyan with Wenchuan, as a result of the heavy rain.
They waited several hours before being rescued and relocated, Wenchuan's emergency management office said.