US-China cyber security working group meets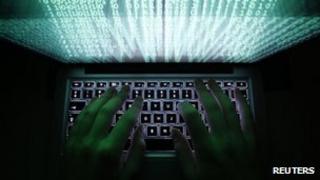 Chinese and US officials have discussed hacking concerns at the inaugural meeting of a joint US-China working group on cyber security.
The meeting on Monday was a prelude to an annual high-level forum between the world's two largest economies.
The US has previously accused China of commercial cyber espionage - something China denies.
The US-China talks have also been overshadowed by allegations that the US has hacked into Chinese networks.
The claims were made by fugitive US whistleblower Edward Snowden.
The former government contractor told a Hong Kong newspaper last month that America's National Security Agency had led more than 61,000 hacking operations worldwide, with many targets in Hong Kong and mainland China.
The two sides set up the cyber security working group in April, to speed up action to prevent hacking attacks.
The working group was led by US cyber issues co-ordinator Christopher Painter and Chinese Foreign Ministry official Dai Bing.
The US hoped that Monday's talks would "enable the two sides to share perspectives on international laws and norms in cyberspace", US state department spokeswoman Jen Psaki said.
The working group talks come ahead of the US-China Strategic and Economic Dialogue, a key annual ministerial meeting between the two countries. That forum is set to take place on Wednesday and Thursday.
US Secretary of State John Kerry and Treasury Secretary Jacob Lew will host the meeting in Washington, attended by China's State Councillor Yang Jiechi and Vice Premier Wang Yang.
The US has said that many hacking attacks on its networks - both government and commercial - originated in China.
In February one US security firm issued a report accusing a secretive Chinese military unit of being behind many of the attacks.
The Chinese government has repeatedly denied responsibility, saying it is a victim of US-based attacks.