Nina Wang will: Feng Shui master Chan guilty of forging will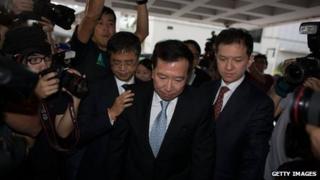 A court in Hong Kong has found a Feng Shui master guilty of forging the will of the late billionaire tycoon Nina Wang, once Asia's richest woman.
After Ms Wang died in 2007, Peter Chan, formerly known as Tony Chan, claimed he was the sole beneficiary of her estimated $4bn (£2.6bn) estate.
But that will was ruled a forgery and her fortune went to charity.
The case of the eccentric billionaire widow and her alleged geomancer lover has transfixed Hong Kong.
It has been one of the city's most colourful and high-profile legal sagas.
The jury took two days to reach their verdict and Chan is due to be sentenced on Friday.
After the verdict, Chan appeared flushed and lowered his head, but there were no visible signs of emotion, the Reuters news agency reports.
He changed his name from Tony Chan to Peter Chan earlier this year after he converted to Christianity.
Chan fought for years to inherit the property tycoon's multi-billion dollar fortune, claiming he was the sole beneficiary according to a 2006 will.
But a court finally dismissed his claims to the inheritance in 2011, ruling in favour of a charity run by Ms Wang's siblings, Chinachem Charitable Foundation Ltd, whose claim to her estate rests on a will from 2002.
Ms Wang, who was 69 when she passed away, was known for her pig-tails, short skirts and colourful dress sense.
She was the widow of Hong Kong industrialist Teddy Wang, who disappeared in 1990 after being kidnapped.