China media: Egypt unrest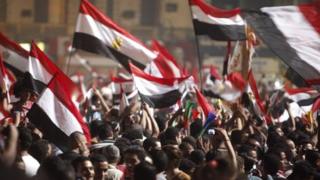 Political turmoil in Egypt, former Kuomintang war veterans and ex-football coach Jose Antonio Camacho's compensation pay-off are major themes in today's media.
Amid an Egyptian military coup, state media in China highlight how anti-government protests in Egypt have impacted on economic development and ordinary people's livelihoods.
"A few years ago my business is great, but now there are few customers. It is better to have stability and development. China is a mirror worth emulating for Egypt. Without stability, Egypt has no future. Chinese-style stability is a goal that we should strive for," the People's Daily quotes an Egyptian grocer called Taufiq as saying.
In Overseas Net, a Communist Party-linked commentary website, pundit Song Luzheng says the Egyptians voicing support for the military coup are essentially "cheering for the death of democracy".
The Global Times says China must confidently stick to its chosen path of development under Communist Party rule and warns that the vast majority of revolutions have resulted in huge humanitarian and economic losses.
"A few Eastern European countries have been lucky in 'colour revolutions' in the modern age, but everyone can see at a glance what has happened in Egypt, Libya and Syria. Yugoslavia was however shattered in Eastern Europe, and Ukraine and Georgia have yet to recover," the editorial comments.
On Wednesday, the Global Times also warned that growing chaos in Egypt should raise China's vigilance against "Western political influence" and accused the US of having "the last word" in Egypt's political situation.
War veterans
Turning to domestic news, surviving former Kuomintang (KMT) veterans who fought against the Japanese invasion from 1937 to 1945 tell Southern Daily that they are honoured to finally be included in the social welfare system.
Hua Chige in the Beijing Times, however, notes with disappointment that the Ministry of Civil Affairs will not list the KMT soldiers as beneficiaries of the preferential treatment system, which is offered to veterans and serving members of the communist People's Liberation Army (PLA).
Volunteers working for veteran charity groups tell the Global Times that former KMT soldiers, who are mostly in their 90s, have been struggling to survive on less than 100 yuan (£10; $16) a month. Over the years, there have also been frequent protests by PLA veterans over inadequate pensions.
The Southern Metropolis Daily says welfare for the KMT veterans is "valuable progress, despite being long overdue" and stresses that the role of the KMT in the war "cannot be ignored".
It also asks why the government is always "embarrassed" over the KMT's role in the war and could not be more open in publicising news of Shaanxi province awarding posthumous honours to six KMT soldiers who died in the war.
Wang Jin, a China Youth Daily commentator, says many KMT war veterans on the mainland never married and suffered from physical disabilities, poverty and discrimination and should receive the same preferential treatment as PLA veterans.
"We owe these veterans of the War of Resistance too much, and it is time to make up the losses to them," Wang Jin stresses.
Finally, many media are up in arms over Jose Antonio Camacho getting a substantial compensation pay-off after he was sacked as coach of the Chinese national football team over an embarrassing 5-1 loss to Thailand in a friendly match in June.
Commentators in the China Youth Daily and The Beijing News call on the Chinese Football Association to explain to taxpayers why it signed an "unequal treaty" handing over so much cash to Mr Camacho in a manner reminiscent of the Qing Dynasty's capitulation to Western powers in the opium wars in the 1800s.
BBC Monitoring reports and analyses news from TV, radio, web and print media around the world. For more reports from BBC Monitoring, click here. You can follow BBC Monitoring on Twitter and Facebook.