China media: Snowden stand-off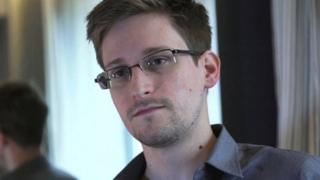 State media brush off US criticism of whistleblower Edward Snowden's departure from Hong Kong.
A front-page commentary in Communist Party newspaper the People's Daily Overseas Edition calls the White House's criticism over Edward Snowden's flight from Hong Kong to Moscow - despite a US extradition request - on Sunday "unacceptable".
"The Hong Kong Special Administrative Region government's approach in handling the Snowden incident was consistent with relevant laws, and the Chinese central government has always respected the Hong Kong SAR Government handling affairs according to law," writes Wang Xinjun, a researcher of military strategy at the Academy of Military Science,.
The Beijing Times also highlights the "judicial autonomy" of Hong Kong and the legality of the city's government in allowing Mr Snowden to leave. It calls on China to build up its own cyber-technology to safeguard national interests and personal privacy against the US' cyber-surveillance.
A bilingual editorial by Beijing's Global Times says China must fight back against "US hegemony in cyberspace" and "American internet barons" to avoid turning into the "biggest fish in the net of the 'World Washington Web'".
"Instead of apologising, Washington is showing off its muscle by attempting to control the whole situation," the newspaper says.
"Snowden sounded the alarm, and we cannot cover our ears. We should sort out the situation and break the US' monopoly in cyberspace, formulating regulations on an equal footing with Washington," it adds.
'High-handed' approach
Over in Hong Kong, the Ta Kung Pao, a local newspaper linked with Beijing, calls Washington's "threats" against Beijing and Hong Kong over Mr Snowden's departure "high-handed" and repeats calls for an explanation and apology for "illegal intrusions" into computer networks.
"Snowden's departure to a third country was the safest solution for Beijing, Hong Kong, and even the US. China does not want to throw stones down on a well and use the Snowden incident as a 'card' to disrupt the overall situation between China and the US," it stresses.
Another commentary by the Ta Kung Pao praises Hong Kong Chief Executive CY Leung's "powerful" justification for Mr Snowden's departure as highlighting the rule of law in the territory.
It dismisses speculation that the US may retaliate by tightening visa rules for Hong Kong passport holders, stressing that any such move will only undermine its reputation further.
The Ming Pao says the Hong Kong government acted lawfully in letting Mr Snowden leave the city and warns that any US retaliation will trigger "more discontent" among the local public since Hong Kong is also a "victim" of "US cyber-attacks". It also calls the "silence" of many US allies on Mr Snowden's cyber-surveillance revelations "lamentable".
Several commentaries in the Beijing-backed the Wen Wei Po accuse democratic camp politicians and the Apple Daily, a long-standing critic of the communist authorities, of not taking a stand sooner against the US government's alleged infiltration of computer networks in Hong Kong and mainland China.
'Misused funds'
In other news, besides overspending in many central government departments, China's National Audit Office has found that its funds were also misused last year, says The Beijing News.
The Beijing News also reports huge budget overspending in the Ministry of Foreign Affairs.
Sina Sports says the Chinese Football Association has issued a letter of apology for the national team's recent 1:5 loss to Thailand in a friendly match, which triggered public suspicion of match-fixing.
Commenting on the removal of Chinese national football team coach Jose Antonio Camacho, Titan Sports correspondent in the Shanghai Yang Yiwei says if Marcello Lippi, a former Italian national football team coach and current head coach of Chinese team Guangzhou Evergrande FC, may be the best candidate.
"However, if not even Lippi can find a way out for the Chinese team, this may force policy-makers to completely abandon the strategy of using big names to save the national football team and to truly crack the problem of training young players," the reporter adds.
"If Camacho is replaced by Lippi, can Chinese football be saved? Almost no-one can muster the courage to give a positive answer when faced with this question," Guangzhou's Nanfang Daily concludes.
BBC Monitoring reports and analyses news from TV, radio, web and print media around the world. For more reports from BBC Monitoring, click here. You can follow BBC Monitoring on Twitter and Facebook.