China media: Lessons from space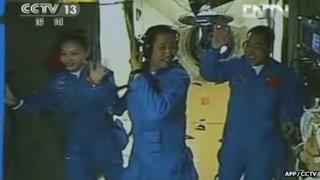 Media broadcast a physics lesson given by astronauts from space, while commentators demand more curbs on officials' powers amid the corruption trial of a cadre involved in a "sex-tape" scandal.
On Thursday, China Central Television broadcast live female astronaut Wang Yaping giving a lesson onboard the orbiting Tiangong-1 space module this morning to school pupils on Earth.
The Beijing News says thousands of internet users submitted questions to the three astronauts onboard Tiangong-1, including how they would fry an egg, take a bath or respond to an encounter with aliens.
In international news, the People's Daily Overseas Edition and other party-run media are prominently featuring Chinese President Xi Jinping's talks with visiting Vietnamese President Truong Tan Sang on Wednesday.
They highlight Mr Xi's opposition to any outside involvement in the resolution of South China Sea territorial disputes and proposal on further talks on demarcating disputed waters outside the Gulf of Tonkin.
"Do not make ship of Sino-Vietnamese relations deviate from correct course," reads the headline on China Youth Daily's front page.
Beijing 'aloof' over Snowden
Beijing-based academics tell Hong Kong's South China Morning Post that commentaries in People's Daily and Global Times on Wednesday suggest that Beijing will remain aloof and wants Hong Kong to handle the case of fugitive US whistleblower Edward Snowden by itself.
A bilingual Global Times editorial dismisses complaints by blind activist Chen Guangcheng that the Chinese Communist authorities pressured New York University (NYU) to ask him to leave at the end of this month - something the university has roundly rejected.
Mr Chen campaigned on behalf of mothers forced to undergo abortions or sterilisations under China's one-child policy in his native province of Shandong.
He was imprisoned for disturbing public order and then kept under surveillance at his home. He fled to the US embassy in Beijing in April last year before moving to New York.
It says Chen's "lack of academic qualifications and language competence" were the reasons for his departure and says Mr Chen, like other exiled Chinese dissidents, overestimated his value as a "pawn" to the West.
Turning to domestic news, many newspapers are calling for stricter constraints on the powers of officials following the first day of the corruption trial of Lei Zhengfu, 55, a former Chongqing official embroiled in a long-running sex video scandal.
Wang Youcao, a commentator on Sichuan Online, scoffs at Mr Lei's testimony that he and Zhao Hongxia, a woman who appeared in an alleged sex video with him, were "in love" as an "absurd and dumbfounding" attempt to "disguise himself as a victim".
Fu Dalin, a Beijing Times columnist, says the "entertainment provided to the public" by Mr Lei's "love story" should not distract attention from endemic corruption among officials and the deeper problem of a lack of constraints on the power of officials.
Qianjiang Evening News writer Gao Lu also suspects that Mr Lei's claim of genuine love with Ms Zhao is linked to his unbridled powers as a party official.
"The extramarital affairs and sexual encounters of officials are often bundled together with an exchange of interests. He had embarked on a road of no return as soon as he started," the writer concludes.
In People's Net, Wu Hangzhou says a lack of administrative oversight meant that Mr Lei was only exposed in the scandal after a whistle-blowing journalist leaked video stills of the sex tape online.
Zhang Tianwei in Beijing Youth Daily calls for more checks and balances on the powers of officials to enable to them to return to a "normal professional life" where they are unable to attract mistresses with their power and influence.
Wang Yunfan in Beijing Times also questions why the National Archive Administration took so long to investigate sacked official Fan Yue, who has been accused by Ji Yingnan, a former TV anchorwoman, of lavishing a hefty daily allowance of 10,000 yuan (£1,000; $1,631) as well as an Audi and a Porsche on her during a four-year affair.
A jilted Ms Ji tipped off the administration about the alleged liaison as far back as April.
"Obviously, we all know that if an official has to rely on his normal legal income, he simply cannot afford to keep a mistress and a second wife. The only solution is to rely on money made from corruption through the power in one's hands. This is linked with 60% or more corrupt cadres keeping 'second wives'," comments People's Net's Wu Hangmin.
BBC Monitoring reports and analyses news from TV, radio, web and print media around the world. For more reports from BBC Monitoring, click here. You can follow BBC Monitoring on Twitter and Facebook.