China media: G8 summit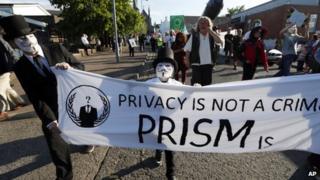 Media feel whistleblower Edward Snowden's latest revelations on surveillance have overshadowed the ongoing G8 summit in Northern Ireland.
Beijing's state-run China Daily says Mr Snowden's revelations, made in a web-chat with the readers of The Guardian newspaper, that Britain spied on G20 delegates at a London summit in 2009 are likely to be an "embarrassment" for the UK.
"The Anglo-American surveillance scandal has cast a shadow over the G8 summit, and the secret monitoring project has become an unexpected major part of the G8 summit... As host, the UK's 'face has swept the floor'," comments Shanghai's International Finance News.
The Voice of China state radio says the G8 summit is "suffering the embarrassment of declining influence" amid the rise of the Group of 20 emerging countries, divisions over Syria, and an outcry over Britain "extorting black money" by charging an extra £1,000 per person to attend the summit.
On Japan, the state-run China Central Television says G8 leaders were less than impressed with Japanese Prime Minister Shinzo Abe economic strategy, which is often described as "Abenomics".
It also calls US President Barack Obama's cancellation of a meeting with Mr Abe a "major blow" to Tokyo's diplomacy.
Ta Kung Pao, a Beijing-backed Hong Kong newspaper, says Mr Obama "no longer has anything to say" to Mr Abe.
It speculates that Mr Obama is irritated at Japan's "arrogance" in disputes with neighbours over territory and World War II as well as delays over joining the US-led Trans Pacific Partnership, a multinational trade pact.
However, Hong Kong's Ming Pao says the Chinese state media are merely showing a "lack of confidence in foreign affairs" by "gloating" over the cancelled meeting.
'Prudent' response
A bilingual editorial by Beijing's Global Times notes that the Chinese government has been "prudent" on the Snowden case and that the US government has also "refrained from publicly pushing China".
It says China should ignore the "hurly-burly of American politicians" like former US Vice-President Dick Cheney who have "slandered" Mr Snowden as a spy for China.
"Hong Kong will not lose the high moral ground if it does not extradite Snowden back to the US. Chinese media should have more contact with Snowden, spreading more valuable information to the world," it says.
In Communist Party newspaper People's Daily Overseas Edition, Jia Xudong, researcher at the China Institute of International Studies, a foreign ministry-affiliated think-tank, questions whether the US will "choose dialogue and co-operation, or accusations and confrontation" in response to the Chinese government "low-key" handling of the Snowden case.
In International Herald Leader, a newspaper published by Xinhua news agency, a cyber-security expert urges China to step up safeguards against "major risks to information security" from the pervasive presence of US and Western high-tech enterprises such as Cisco, Apple and Microsoft.
Hong Kong newspaper The Sun goes further and demands trade barriers to oust Cisco and other US firms providing a "back door" for the US to infiltrate networks in China.
Hong Kong's Ming Pao says the territory must step up hardware and software security against "Big Brother" America stealing data from Hong Kong and even protect undersea fibre-optic communications cables from potential US attacks.
Communist Youth League newspaper China Youth Daily likens Mr Snowden to late British novelist George Orwell.
"If he was alive, Orwell may lament that his imagination was not strong enough. But at the same time, he also has reason to feel gratified. First, he has a successor. Snowden is exposing the secrets of "Big Brother watching you"; second, sales of '1984' have increased greatly," says the newspaper's US correspondent Zhang Xinghui.
Guangzhou's Southern Metropolis Daily pays tribute to Mr Snowden and Wikileaks whistle-blower Bradley Manning as "a new generation of American patriots, rather than traitors".
BBC Monitoring reports and analyses news from TV, radio, web and print media around the world. For more reports from BBC Monitoring, click here. You can follow BBC Monitoring on Twitter and Facebook.