Blind activist Chen Guangcheng blames Beijing for NYU exit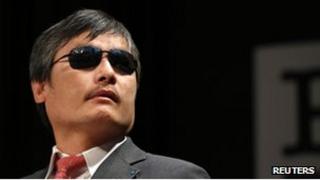 Blind Chinese dissident Chen Guangcheng has linked his departure from New York University to "unrelenting pressure" from Beijing.
Mr Chen has been a fellow at NYU since mid-2012. He is to leave this month.
The activist caused a diplomatic flurry last year when he fled house arrest and went to the US embassy in Beijing. He was later allowed to go to the US.
NYU has rejected his claim, saying his fellowship had always been expected to last a year at most.
"As early as last August and September, the Chinese Communists had already begun to apply great, unrelenting pressure on New York University, so much so that after we had been in the United States just three to four months, NYU was already starting to discuss our departure with us," Mr Chen said in a statement.
Beijing authorities wanted "to make me so busy trying to earn a living that I don't have time for human rights advocacy, but this is not going to happen", he said.
NYU spokesman John Beckman said Mr Chen's claims were "both false and contradicted by the well-established facts".
"Mr Chen's fellowship at NYU and its conclusion have had nothing to do with the Chinese government. All fellowships come to an end," he said in a statement.
NYU last week rejected a report by the New York Post linking Mr Chen's departure to its planned satellite campus in Shanghai, which is due to open in September.
Prof Jerome Cohen, a NYU law professor who had helped broker Mr Chen's fellowship at the university, said last week that the arrangement had always been a short-term one to help Mr Chen and his immediate family "get their feet on the ground and transition to a more permanent position".
Mr Chen is reported to be in talks with two US institutions about a possible position.
The self-taught lawyer had campaigned against forced abortions under China's one-child policy, but was jailed for four years in 2006 for disrupting traffic and damaging property.
He was placed under house arrest after his release in 2010, until his high-profile escape in April 2012.