China media: Football defeat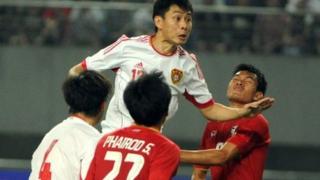 China's media and commentators have expressed anger after the national football team suffered a humiliating 1:5 defeat against Thailand on Saturday.
Many Chinese are "furious at the humiliating performance of the team" in its home defeat in Hefei, Anhui, during the friendly with Thailand, after losing 2:1 to Uzbekistan and 2:0 to Holland earlier this month, says Global Times.
"1:5! The national football team has written a new chapter once again in its 'history of shame' of repeated defeats with a crushing defeat to a Thai youth team. With three consecutive defeats in nine days, yet another 'glorious record' is born," comments Beijing Evening News.
"Chinese football has wasted an opportunity for a 'rebirth' once again," lamented Xinhua news agency after the game.
Hong Kong's Oriental Daily News says some fans even started cheering for the Thai team, chanting "6:1", "dissolve the national team", "Camacho step down" and other slogans.
After the game, some fans threw mineral water bottles and rubbish at national coach Antonio Jose Camacho and the players as they headed to the changing rooms, it adds.
Hong Kong's Apple Daily says not only did the national football team suffer its "most humiliating defeat" on Chinese President Xi Jinping's 60th birthday, fans also gave their national leader an "embarrassing" gift by rioting after the game.
Over 100 people were injured and many cars were destroyed in ensuing clashes with police, when angry fans surrounded the team's coach, the China Human Rights and Democracy Information Centre, a Hong Kong-based social unrest monitoring group, reports.
Sports writer Fang Zhengyu in Yangcheng Evening News calls Mr Camacho the "worst coach in the history of the national football team", but stresses that he should complete his contract since he has had little time to get accustomed to Chinese football.
"15 June 2013 is destined to become a very dark day in the history of Chinese football," says Guangzhou's Southern Metropolis Daily.
"One can say that the 'Hefei defeat' is just a fuse, and what lies behind this fuse is a public opinion atmosphere that has long since been ready to explode at any time," it concludes.
US criticised
State media continue to condemn the US following revelations by former Central Intelligence Agency employee Edward Snowden that US intelligence agencies have been hacking millions of computers throughout the world.
"Extraditing Snowden back to the US would not only be a betrayal of Snowden's trust, but a disappointment for expectations around the world. The image of Hong Kong would be forever tarnished," says a bilingual Global Times editorial.
People's Daily says the Prism cyber-spying allegations have exposed the US' "exceptionalism" in imposing its own double standards on the world.
Southern Metropolis Daily reports that Chinese President Xi Jinping received a call on his birthday from Russian President Vladimir Putin to discuss bilateral relations and the Korean Peninsula. Mr Xi spoke of how he cherished "personal friendship and mutual trust" with Mr Putin.
Apple Daily, however, notes that state media did not report any call from US President Barack Obama and also failed to mention that North Korean leader Kim Jong-un called with birthday greetings on Saturday.
"Chinese state media made no mention of Kim's message. It was quite uncharacteristic and could suggest an open snub against Kim amid North Korea's recent reckless behaviour," adds Wang Xiangwei, editor-in-chief of Hong Kong's South China Morning Post.
Turning to France, some media are raising concerns over a growing number of attacks and robberies targeting Chinese nationals overseas after six Chinese wine-making students were attacked by three locals at their home in Hostens, a village south of Bordeaux, in the early hours of 15 June.
Global Times says a fear of "China's power" is spreading in an economically stagnant France and says "more efforts are needed to ensure that xenophobia does not continue to rise".
The Beijing News, China Daily and Oriental Daily News note that resentment is growing in Bordeaux because of a recent wave of Chinese investors buying up vineyards and real estate in the country.
Apple Daily says some mainland internet users believe that the fuerdai or "rich second generation" children of officials and nouveau riche are arrogantly flaunting their wealth overseas.
"The rich second generation both at home or abroad all believe they can do whatever they want because they are rich and powerful, which reflects China's low level of moral education," Apple Daily comments.
BBC Monitoring reports and analyses news from TV, radio, web and print media around the world. For more reports from BBC Monitoring, click here. You can follow BBC Monitoring on Twitter and Facebook.