Hundreds 'taken ill' at China school in Sichuan province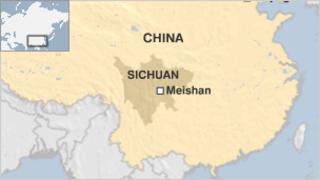 Hundreds of children at a school in China's Sichuan province have been taken to hospital after falling ill, Chinese state media report.
Xinhua quotes local officials in the city of Meishan as saying that out of 346 children, aged between eight and 12, 45 were seriously ill.
It is unclear what caused the condition but the symptoms are said to include high fever and dizziness.
Officials say the provincial disease control centre is investigating.
All the children are believed to attend the same school in Meishan city.