China media: Ties with Taiwan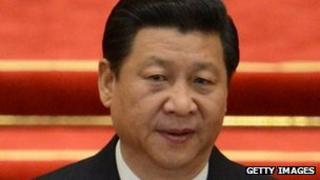 Mainland and Taiwan media debate cross-strait political reconciliation following a key meeting of party leaders, while allegations of US cyber-spying on China trigger further security concerns.
The top story on the mainland's China Central Television and other party-state newspapers are devoted to Communist Party of China (CPC) General Secretary Xi Jinping's meeting with Wu Poh-hsiung, honorary chairman of Taiwan's ruling Kuomintang (KMT) party in Beijing yesterday.
Beijing's Global Times says Taiwan President Ma Ying-jeou must pick up the pace on advancing cross-strait relations beyond economic co-operation and kick-start his pledge on cross-strait political dialogue through non-official channels.
In Taiwan, United Daily News says Mr Xi showed a more accommodating and open-minded stance on cross-strait relations than his predecessor. It calls on both sides of the strait to end a "dead-end struggle" over their sovereign status and use the "big roof of China" as a "connecting point" for establishing "pre-reunification cross-strait political relations".
China Times says Ma Ying-jeou and Xi Jinping, as well as his predecessor, Hu Jintao, will have a "place in history" for ending a history of hatred since the 1949 civil war between the two parties.
Liberty Times fears that political negotiations and a KMT-CPC "alliance to contain Taiwan" initiated by Mr Ma will become "irreversible" even if there is a change of political parties on the island in future.
Central Daily News says there are still too many "misconceptions" and fears in Taiwan over political dialogue, despite the fact that nearly all cross-strait negotiations and agreements reached in the last eight years have a political element.
Security concerns
Meanwhile, US whistle-blower Edward Snowden's allegations that the US government has been hacking mainland China and Hong Kong computers since 2009 have raised further concerns in state-run media.
"The "Prism" incident has sounded an alarm for China. The media have quoted Snowden as saying that the US government has been infiltrating computers in mainland China and the Hong Kong Special Administrative Region since 2009. The authenticity of this statement may still await verification, but it is an indisputable fact that China has become a major victim of cyber-attacks," says Xinhua News Agency.
Last night, China Central Television's evening news bulletin, Xinwen Lianbo, featured Mr Snowden's revelations, while CCTV interviewed a Hong Kong computer expert on how the US is able to infiltrate Chinese networks this morning.
Global Times reiterates that the Chinese government should play Mr Snowden as a "card" to demand an explanation from Washington and let Mr Snowden make public more evidence of alleged US cyber-spying against China.
"Snowden is an American political prisoner, but he is doing something good for the world. He should not be a hot potato, but a test for whether China and the US establish a truly new type of relations among major powers," it says.
"Snowden is 'a card' right at our fingertips... China should not let Snowden's 'defection' to Hong Kong be ultimately proved to be his 'worst destination' chosen, otherwise there will no longer be all kinds of worthy people with 'nowhere to go' running to China. It should at least let Snowden have a 'decent' outcome."
People's Daily and Caixin dwell on how "Prism-gate" is stirring global debate over the balance between civil liberties and national security, while Beijing Times and Oriental Morning Post predict that the scandal could end President Obama's career.
The world owes Mr Snowden a debt of gratitude for unmasking the US' cyber-surveillance, says Chen Weihua, deputy editor of China Daily USA.
Wen Wei Po, a Beijing-backed Hong Kong newspaper, suspects that the US government's alleged hacking in Hong Kong is covertly promoting Occupy Central, a civic campaign to push for universal suffrage in the city, as a "Hong Kong-style colour revolution".
Hong Kong's Oriental Daily News says the Chinese government should play Mr Snowden as an "ace" to win a covert cyber-war with the US. It says the best outcome is for Beijing to avoid a stalemate with the US by refusing to extradite Mr Snowden by handing him over to Russia.
In Apple Daily, political commentator Martin Oei says Hong Kong taxpayers are unaware that the US allegedly targeted Hong Kong's Chinese University because Beijing is using tertiary education institutes for military research.
South China Morning Post and Apple Daily note that the Prism debate has sparked a left-versus-right online flaming war between the "50 Cent Party" (paid "internet commentators" that try to shape public opinion), pro-establishment pundits, and liberals.
BBC Monitoring reports and analyses news from TV, radio, web and print media around the world. For more reports from BBC Monitoring, click here. You can follow BBC Monitoring on Twitter and Facebook.