US leaker Snowden both boon and burden for China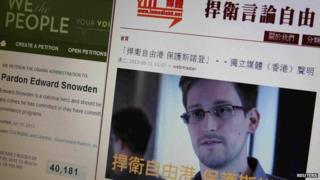 For China, Edward Snowden's sudden arrival in Hong Kong and his explosive revelations about the extent of US cyber-spying activities around the world are both a boon and a burden, a potential propaganda and intelligence gift, but also a diplomatic dilemma.
Beijing has in recent months come in for sustained criticism over its own cyber-spying activities.
The US government and private US internet security firms have criticised China for state-sponsored cyber-attacks, targeting everything from US military contractors to corporations in America.
Evidence has been produced that purports to show Chinese hackers operating from military facilities targeting US media firms and private companies.
US President Barack Obama was sitting down to tell Chinese leader Xi Jinping that US patience had run out and China had to rein in its cyber-spies, just as Edward Snowden's claims that America 's National Security Agency had been collecting vast amounts of information about internet users around the world were gaining attention.
What's more, Mr Snowden now says the US was hacking hundreds of targets in Hong Kong and China, including private individuals, academics and students too.
China has long said it is a victim of hacking. Here was a contractor for American intelligence who had fled to Hong Kong saying he wanted to expose US "hypocrisy"; China's claims, he said, were true.
Treacherous waters
So it is unsurprising that China's state-controlled media has leapt on the opportunity.
The China Daily on Thursday said "the massive US global surveillance programme... is certain to stain Washington's overseas image and test developing Sino-US ties".
It quoted Li Haidong, a researcher at the China Foreign Affairs University, who said that "for months Washington has been accusing China of cyber-espionage, but it turns out that the biggest threat to the pursuit of individual freedom and privacy in the US is the unbridled power of the government".
The Global Times, which is produced by the Communist Party's People's Daily group, added, "in the last year or two, the US has kept posing as a victim to accuse China of hacker infiltration. Many people speculate that this is the US' cover for its own cyber-warfare. [Edward] Snowden's whistle-blowing has confirmed this speculation."
Tao Duanfang writing in the Beijing News says "this is also probably just the tip of the iceberg. In other words, who can guarantee that the privacy of government, legislative and judicial organs has not also been spied on quietly by the eyes of intelligence agencies?
"Since the US government and intelligence agencies reject transparency, how can one guarantee that they have not transgressed boundaries?"
But Beijing's schadenfreude only goes so far, because these are treacherous waters for China to tread in.
China's own controls on the internet, the activities of its own cyber-police, spying on China's own citizens - these practices are the most intrusive and extensive in the world. Pointing out US hypocrisy is a risky move for China.
In Hong Kong itself, the Beijing-backed Ta Kung Pao paper used the opportunity to gloat that "the 'Prism programme' leaked by US renegade spy Snowden has torn off the US' glorious mantle as a world-class 'human rights defender', and once again let the international community witness its other ugly face...
"It is hoped that the US government will no longer avoid differentiating between home and abroad, making peremptory calls on others to do things that even it is unwilling to do."
Fly in the ointment
But others have pointed out how hazardous the whole issue is for China and the armies of paid internet opinion pundits, known as the 50 Cent Party, who have been praising Edward Snowden on Chinese websites.
In an editorial, Hong Kong's independent Apple Daily wrote that "no matter how China's cyber-50 Cent Party praises Snowden for betraying the Central Intelligence Agency and how they drag the US down with mud-slinging tactics, it can neither change the fact that China is abusing cyber-monitoring to violate human rights and serve a one-party dictatorship, nor build up theoretical grounds for China to continue to abuse cyber-monitoring without any checks and balances whatsoever...
"Snowden will always be a hero who China's 50 Cent Party cannot afford to love. If the 50 Cent Party hails Snowden as a hero, they will be calling for the birth of Snowden-style heroes in China."
And the same dilemma applies to China's own government. Edward Snowden's sudden arrival in Hong Kong, and the fact he will probably now seek to prevent any deportation to the US through Hong Kong's courts may look like an opportunity to Beijing, but it really is a headache that China's leaders did not want right now.
Xi Jinping's summit with Barack Obama in California was meant to set the tone for the coming years.
Substantive issues - from North Korea to the territorial disputes in the South and East China Seas, from cyber-spying to trade, technology and investment frictions - were all up for discussion.
There was talk of a new, co-operative relationship. Edward Snowden is a new fly in the ointment.
David Zweig, a professor the Hong Kong University of Science and Technology, says: "I think the big issue for China in his being here is it's a big pain in the butt. I think that the last thing they really wanted is for him to come here. They have just spent a lot of time and energy trying to improve Sino-American relations.
"So I don't see that they get much from getting the Americans angry at them by protecting him if the Americans want him to go back. I don't see anything positive in that."
Intelligence value?
With his intimate knowledge of America's spying capabilities and the work of the National Security Agency, Edward Snowden could have some intelligence value for China, says Mr Zweig, but it is limited.
"The only thing that could be useful is that if the Hong Kong police arrest him, then his computer might fall into their hands and then that intelligence could then fall to China. But I don't think that China really wants him. He doesn't bring much."
So, on balance, David Zweig says, there are far more serious issues at stake for China.
"Xi Jinping, the leader of China, is much more interested in improving relations and resolving key practical problems that exist between the United States and China, not in having to deal with some guy falling down from heaven, jumping into Chinese territory and saying: 'Save me, save me from the wicked United States'."
China's leaders then would rather wash their hands of the whole issue.
That may be why Regina Ip, a former member of Hong Kong's government, whose opinions are often thought to reflect those of Beijing, has suggested Mr Snowden would do best to leave Hong Kong of his own accord.
Unfortunately, from China's point of view, it seems he is intent on staying and fighting his case through Hong Kong's courts.