Chinese dissident Chen Guangcheng to leave NYU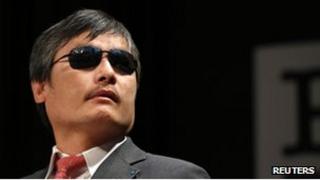 Blind Chinese dissident Chen Guangcheng is to leave New York University, where he is a visiting fellow, this summer.
New York University (NYU) says Mr Chen is likely to remain in the US, and is currently in discussions with other US academic institutions.
Mr Chen, a prominent activist, caused a diplomatic flurry last year when he escaped house arrest and took refuge in the US embassy in Beijing.
He was eventually allowed to go to the US to study.
"We were pleased to offer Mr Chen and his family a place to come and study and support his transition to the US when he first left China," NYU spokesman John Beckman said.
"But NYU and Mr Chen had discussions beginning last fall that NYU could not support him indefinitely."
NYU dismissed a report by the New York Post that said Mr Chen had been asked leave as NYU was building a satellite campus in Shanghai as "fanciful and false".
Negotiations ongoing
Prof Jerome Cohen, a NYU law professor who had helped broker Mr Chen's fellowship at the university, said that the arrangement had always been a short-term one to help Mr Chen and his immediate family "get their feet on the ground and transition to a more permanent position".
"No political refugee, even Albert Einstein, has received better treatment by an American academic institution than that received by [Mr] Chen from NYU," he said.
Mr Chen was currently choosing between "two attractive opportunities" at other institutions, he added.
A spokesman for Fordham University, which is also in New York, confirmed that the university's law school was "in negotiations" with Mr Chen, although it was unclear what position was being discussed.
Mr Chen has not publicly commented on the issue.
The self-taught lawyer had campaigned against forced abortions under China's one-child policy, but was jailed for four years in 2006 for disrupting traffic and damaging property.
He was placed under house arrest after his release in 2010, until his high-profile escape in April 2012.