China detains journalist and photographer Du Bin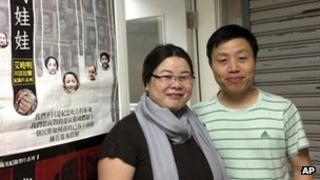 A Chinese journalist who disappeared days before the anniversary of the Tiananmen killings has been detained by security officials, his sister says.
Du Bin, a film-maker and photographer, has not been seen since 31 May, his friends say.
His sister Du Jirong told the BBC police had confirmed he was under criminal detention in Beijing.
He had recently released a documentary on China's labour camps and a book on the Tiananmen square crackdown.
Ms Du said Beijing police had confirmed that her brother was being held in a detention centre in Fengtai district and that his case was being handled by Beijing's state security officers. However, she said that police did not say why he was being held.
"[They said] if I want to know my brother's situation, I have to ask the pre-trial division of the Fengtai District police bureau," she said.
Hu Jia, a prominent Beijing-based activist and friend of Du Bin, told the BBC he believed Mr Du's detention was due to his recent work.
"We found out that all of Du Bin's books - including those he wrote - had all been taken away. Materials he collected regarding the 1989 Tiananmen crackdown and, as well as those of the Masanjia Labour Camp... have all gone missing," he said.
Mr Du has in the past worked as a freelance photographer for The New York Times.
'Government critic'
Du Bin was reportedly escorted by police from his home in Fengtai district on 31 May, a few days before the 24th anniversary of China's Tiananmen crackdown on 4 June 1989.
Speaking shortly after Mr Du's disappearance, Catherine Baber, Amnesty International's Asia Program Director, said: "Du Bin has done extensive media work uncovering torture and deplorable conditions in re-education through labour camps."
"This could well be a case of the Chinese authorities trying to 'disappear' an inconvenient whistleblower and government critic."
Mr Du's most recent book, Tiananmen Massacre, covers accounts of the military crackdown that ended pro-democracy protests in Beijing. It was published in Hong Kong.
He also released a documentary on the Masanjia labour camp in China's Liaoning province, featuring interviews with former inmates.
In April, an expose by Chinese monthly magazine Lens alleged torture and abuse treatment at the Masanjia labour camp in Liaoning, including electrocution and manacles.