China media: 'Space dream'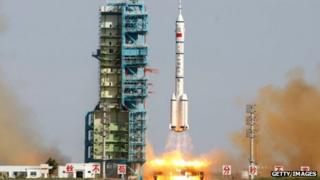 State media are celebrating the successful launch of China's latest manned space mission, while speculation over US whistle-blower Edward Snowden continues to dominate the Hong Kong press.
China Central Television and other party-state media are giving top billing to President Xi Jinping's "space dream" speech on the successful launch of the Shenzhou-10 manned spacecraft on Tuesday.
"The mission's members carry a space dream of the Chinese nation, and represent the lofty aspirations of the Chinese people to explore space," said Mr Xi as he bade farewell to the astronauts who are on the country's longest-ever mission of 15 days to reunite with Tiangong-1, a future space station.
A front-page commentary in the overseas edition of Communist Party newspaper People's Daily stresses that China's space programme is in line with its level of economic development and it does not aim to outstrip the US or Russia in a space race.
Xinhua news agency calls China's space dream "humble" and peaceful, and gives assurances that China opposes the "militarisation" of space.
"After the year 2020, China's future space station will probably be the only one of any kind in service considering the International Space Station's retirement plan.
"By then, China's space dream will not only serve its own people but also contribute to space exploration for the human race," the agency says.
South China Morning Post says the three astronauts on board Shenzhou-10 will have to "share a tiny toilet similar to a vacuum cleaner and sleep in turns in a single sleeping bag pinned to a wall" before they reach Tiangong-1.
Nevertheless, Beijing Times says the crew will enjoy more leisure time and delicacies such as seafood, Kung Pao chicken, fish-flavoured pork and congee - all sealed in packages.
The astronauts will also celebrate the Dragon Boat Festival on Wednesday with zongzi, traditional sticky rice leaf-wrapped dumplings, notes China Daily.
However, Apple Daily and South China Morning Post flag up how internet users suspect that China's youngest astronaut and second female astronaut in space, Maj Wang Yaping, was not born in 1980, as officially announced.
They point to state media reports in June last year that gave Maj Wang's birth date as April 1978 when she was listed as a candidate for the Shenzhou-9 mission.
Whistleblower impact
In other news, China Central Television and other state media continue to focus on the international impact of US whistleblower Edward Snowden's revelations about the Prism surveillance programme and sidestep the more delicate issue of how the governments of Beijing and Hong Kong will liaise with Washington on the case.
In Hong Kong, editorials in Sing Tao Daily and South China Morning Post say Mr Snowden's revelations about the Prism surveillance programme have damaged the US government's credibility.
Ming Pao foresees Mr Snowden hiring a human rights lawyer to battle out his case in Hong Kong.
"Hong Kong may become Snowden's wrestling platform with the US government. Hong Kong's legal system, rule of law, high degree of autonomy and one country, two systems will be exposed before the world and this will have a bearing on Hong Kong's image and reputation. This is why we urge Beijing not to intervene and to let the Hong Kong government handle things on its own," it says.
Ta Kung Pao, a Beijing-backed Hong Kong newspaper, notes Mr Snowden's allegations about the Central Intelligence Agency's operations in Hong Kong.
It suspects that the CIA is secretly backing Occupy Central, a protest campaign to lobby for universal suffrage in the city.
"Snowden has leaked evidence of the US' human rights violations, while also exposing the US' long-standing strategic intent of using Hong Kong as an anti-China 'bridgehead'," it concludes.
Meanwhile, South China Morning Post notes that the mainland media failed to mention Mr Snowden's reasons for fleeing to Hong Kong.
"Hong Kong has a reputation for freedom in spite of the People's Republic of China," he told UK newspaper The Guardian.
Chinese internet users, who have shown "lukewarm interest" in Mr Snowden, also question why he had fled to Hong Kong given the mainland's massive internet surveillance operations, the Post adds.
BBC Monitoring reports and analyses news from TV, radio, web and print media around the world. For more reports from BBC Monitoring, click here. You can follow BBC Monitoring on Twitter and Facebook.