China media: US whistleblower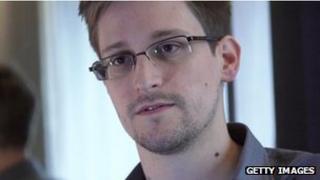 Media in Hong Kong are abuzz about US whistleblower Edward Snowden reportedly hiding in the city, while an upcoming spacecraft launch is topping the headlines in mainland media.
The Chinese government remains publically silent on Edward Snowden seeking temporary refuge in Hong Kong. The mainland media and state television have also avoided raising the tricky question of how the governments of Beijing and Hong Kong will handle the US' possible request to extradite him to the US.
Communist Party newspaper People's Daily focuses instead on the public controversy in the US over surveillance and invasion of personal privacy.
Shanghai's Liberation Daily says the US' "1984-style" surveillance, targeting Chinese and other foreign nationals, shows that President Barack Obama is merely serving the "fourth term" of his predecessor, George W Bush.
"Five years ago, Obama came to power waving an 'anti-George W Bush' banner. Five years later, he is still exactly the same as George W Bush on invasion of privacy issues," it says.
It notes with irony how Mr Snowden's allegations over the US' Prism surveillance programme last week overshadowed the US' plans to "pressure" China over alleged state-sponsored cyber-attacks during an informal summit between the Chinese and US presidents last Friday and Saturday.
Wen Wei Po, a Beijing-backed Hong Kong newspaper, cites the Boston marathon bombings in April as yet another example of the US "eating the bitter fruit of its own making" with its "double standards" on separatist unrest in Xinjiang and Chechnya, and other issues.
"The secret surveillance scandal has exposed once again the US government's double standards on the issues of human rights, freedom and counter-terrorism," it says.
But besides similar condemnation of the US government's surveillance operations, most Hong Kong newspapers are more concerned about whether Hong Kong's freedoms and autonomy under its "one country, two systems" arrangement can withstand US pressure to extradite Mr Snowden.
'Political flavour'
"'Deep Throat' hiding in Hong Kong", reads the front page headline of Ta Kung Pao, in reference to US whistleblower Daniel Ellsberg who brought down former US President Richard Nixon in the Watergate scandal.
Mr Snowden's refuge in Hong Kong "may bring complex political problems" for the governments of the US, Hong Kong and Beijing, it adds.
Sing Tao Daily says Mr Snowden's fate will be used as a yardstick to measure whether Hong Kong lives up to his expectations as a bastion of free speech and autonomy from Western governments.
"The case has a heavy political flavour, so Hong Kong's judicial process will be under a watchful international eye. If the US makes representations to Beijing, the first question is: Will the incident be classed under foreign affairs? Will Hong Kong courts have the powers to handle this?" it asks.
South China Morning Post notes that the Hong Kong government previously came under fire over its role in the rendition of Libyan dissident Sami al-Saadi and his family in 2004.
They were imprisoned and tortured after their return under the regime of former Libyan leader Muammar Gaddafi, South China Morning Post says.
However, Hong Kong acted on Beijing's orders to reject a US request to extradite Iranian operative Yousef Boushvash, who was accused of trying to obtain parts for F-14 fighter jets, the newspaper adds.
Ming Pao warns that if Beijing forces the Hong Kong government to hand over Mr Snowden, it will be tantamount to nullifying Hong Kong's freedoms under "one country, two systems".
"An appropriate choice is to allow the Hong Kong government to handle the matter in accordance with the extradition agreement, maintain neutrality and not take sides between Snowden and the US government, and let Snowden fully exercise his right to seek political asylum in other countries," it concludes.
Space mission
Tencent, Sohu, Sina and other mainland news portals are giving top billing to the launch of the Shenzhou-10 spacecraft today at 17.38 pm Beijing time (0938 GMT).
After completing nine previous experimental Shenzhou space flights, Shenzhou-10 will be the country's first routine service flight heading to the Tiangong-1 space laboratory, says The Beijing News.
Another key highlight will be China's first-ever "space physics class" taught to primary pupils via an interactive video link by female astronaut, Maj Wang Yaping, 33.
"China's space programme has long been criticised for its lack of transparency and the stern face it presents to ordinary people. But space authorities hope the space classes will kindle public interest and support for the national space endeavours," notes South China Morning Post.
BBC Monitoring reports and analyses news from TV, radio, web and print media around the world. For more reports from BBC Monitoring, click here. You can follow BBC Monitoring on Twitter and Facebook.