China media: Xi-Obama summit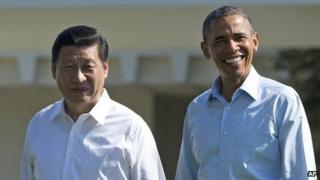 Media welcome a new informal style of summit between the Chinese and US presidents, but differ over whether the US accepts a "new type of great powers relationship" with China.
Communist Party mouthpiece People's Daily and many other party-state media draw parallels between the Xi-Obama summit in California and late US President Richard Nixon's "handshake across the Pacific" in Beijing to meet Mao Zedong in 1972 that began a thaw in bilateral relations.
They also say the California summit has "opened a new chapter" of a new type of relationship as well as "co-operation across the Pacific".
"It was a fruitful meeting. One of the most eye-catching aspects was undoubtedly the two heads of state reaching a consensus and agreeing that both sides will jointly strive to build a new type of great powers relationship between China and the US, with mutual respect, co-operation and win-win," the official Xinhua news agency comments.
Shanghai's Xinmin Evening News highlights a strong personal rapport between the two presidents whose talks extended beyond the scheduled times. It says they "chatted like old friends about hobbies" in casual clothing as they wandered around the estate.
Amid raised eyebrows among the US media and some Chinese internet users about Michelle Obama's decision stay in Washington DC, the newspaper adds that Mrs Obama wrote a handwritten letter to Mr Xi's wife, Peng Liyuan, to say she was looking forward to bringing her daughters to visit China in future.
Following the summit, most media in mainland China and Hong Kong acknowledge major sticking points remaining between the two countries, but generally conclude that the California meeting was an important step for reducing strategic mistrust and for forging a more equal relationship reflecting China's growing international clout.
'Limited results'
However, a commentary in the overseas edition of People's Daily by Jia Xudong, a foreign ministry think-tank expert, says it is "not easy" for China and the US to build a "normal relationship among major powers".
Mr Jia says it will be impossible for Beijing and Washington to ease distrust with US "interference" threatening China's political stability and US actions to "contain" China such as US arms sales to Taiwan.
Hong Kong Economic Times notes that Mr Obama sidestepped Mr Xi's initiative for a new great powers relationship. It adds that Mr Xi did not "send a big gift" to the US either and said he would only set up a team to look into the US' concerns over cyber-attacks.
"Obama's real purpose is not to let China's position be raised to an equal level with the US, so he did not respond to the new type of great powers relationship proposed by China. What he attached importance to was a micro co-operative relationship between China and the US," it comments.
Hong Kong's Ming Pao highlights how the US media noted many differences between the two sides on China's alleged cyber-attacks, arms sales to Taiwan, South China Sea territorial disputes and economic issues.
Hong Kong newspapers Oriental Daily News and South China Morning Post also note that the two presidents made progress on North Korea and climate change but failed to agree on big issues such as cybersecurity, economic issues and China's territorial disputes with neighbours.
Hong Kong Economic Journal says the "limited results" of the dialogue between the two leaders fully reflected the US' strategic suspicions over a potential threat to its "sole superpower" domination from China. However, it notes that the meeting was still a starting point for both countries to explore a new great powers relationship.
Although Obama called for promoting the building of new great powers relationship, this "does not necessarily mean that the US accepts this formulation", says Taipei's United Daily News.
"There may not have been too many substantive results this time, but the meeting's importance in the history of Sino-US relations has been established," it adds.
BBC Monitoring reports and analyses news from TV, radio, web and print media around the world. For more reports from BBC Monitoring, click here. You can follow BBC Monitoring on Twitter and Facebook.