China bus fire probed as 'criminal case'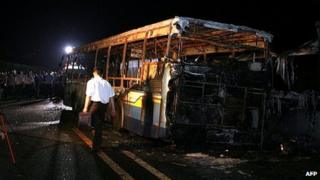 A deadly bus explosion and fire in south-east China is being treated as "a serious criminal case" and not an accident, state media said.
At least 47 people died and more than 30 were injured after the fire in the port city of Xiamen on Friday.
Investigators found traces of petrol on the bus although it was diesel-powered, Xinhua news agency said.
Officials closed the entire express bus system, in which buses run on tracks above the city centre.
The incident happened during the Friday evening rush hour at about 18:30 local time (10:30 GMT).
Images posted on social media showed survivors with burns and blood-stained clothing. A plume of smoke is seen rising above the city and the bus is later seen as a burned-out wreck.
A local government official quoted by Xinhua said the incident was being treated as a serious criminal case and further investigations were under way.
An initial police investigation showed that the tyres of the bus and the fuel tank were intact, the report said.
A team led by Public Security Minister Guo Shengkun has been sent to oversee the investigation, it added.
The BBC's John Sudworth in Shanghai says there have been a number of attacks on buses and public buildings in China in recent years by people with personal and sometimes political grievances.
In 2009 an unemployed man ignited petrol on a bus, killing himself and 26 others. Another 24 people died the same year in a shuttle bus fire started by a disgruntled steel worker.
Xiamen is in Fujian province and has a population of more than three million.
Its express bus system was built in 2008.