Obama and Xi: The agenda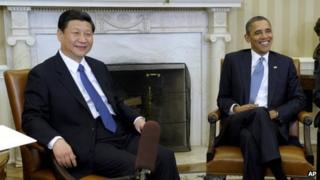 Barack Obama and Xi Jinping meet on 7-8 June at a private estate in California's Mojave Desert for an informal summit. The BBC looks at what might be on the agenda.
Building trust
More than any political or economic issue, the two leaders need to work on building trust, analysts say. The summit comes at a time when relations are strained over multiple issues, from alleged Chinese cyber hacking to security issues in Northeast Asia and the Middle East.
In Foreign Policy magazine, veteran Chinese diplomat He Yafei spoke of "a huge deficit of strategic trust" between the two nations, saying a "new type of great-power relationship" was needed.
Kenneth Liebertahl, in a blog entry for the US think tank Brookings Institution, says that each leader developing "a serious sense of the other" is "perhaps the most important purpose of the summit".
Over the course of the two-day meeting, reports suggest Mr Obama and Mr Xi will have time to get to known each other in informal surroundings, share meals and even take walks.
Cyber hacking
Cyber hacking has been a growing point of contention. The US has long suspected China of a role in cyber attacks, with a US congressional report last year naming the country as "the most threatening actor in cyberspace".
In February, US security firm Mandiant linked a Chinese military unit to prolific hacking of more than 140 mostly US-based organisations. Then in May, the Pentagon for the first time directly accused Beijing of targeting US government computers.
China has repeatedly denied the allegations, saying Mandiant's report was flawed. It also called the Pentagon report "groundless". Days ahead of the summit, China's internet security chief Huang Chengqing told state media China had been the target of "serious cyber attacks" from the US, saying : "We have mountains of data if we wanted to accuse the US."
Writing in Foreign Policy, He Yafei said cyber hacking should be "treated as a global governance issue", as China and the US "are both victims, and there is no point in accusing each other".
North Korea and Syria
The US wants closer co-operation with China on North Korea in the wake of its 12 February nuclear test.
China - Pyongyang's nominal ally - has in the past shied away from measures that could destabilise the regime. But Jonathan Pollack, director of the China Center at Brookings Institution, said that the US and China were now seemingly on the same page on North Korea, with China openly recognising Pyongyang's behaviour posed a "distinct problem" to its interests.
Washington also wants more co-operation from Beijing on Syria. China, along with Russia, has repeatedly blocked tougher action against President Bashar al-Assad's regime, vetoing security council resolutions last year. It says it wants a peaceful solution to the conflict.
Regional security
The announcement of the US "pivot to Asia" policy has contributed to tensions between the two giants.
The California meeting is a "critical opportunity" for the US to explain America's strategy and goals on this, writes Kenneth Lieberthal for the Brookings Institution, given the "understanding of many Chinese that this strategy is targeted against China and seeks to complicate, slow down and perhaps even disrupt China's rise".
China's ongoing maritime territorial disputes with its Asian neighbours, some of which are strongly allied with the US, are also a potential problem. Beijing has overlapping claims with Japan, the Philippines and Vietnam, amongst others.
If these maritime rights issues in the region are not resolved, the destabilisation could possibly lead to war, Richard Bush, director of the Center for Northeast Asian Policy Studies, said in a video for the Brookings Institution.
Trade ties
With pressing political issues for the two countries to address, their usually tense trade relationship is expected to fall lower on the agenda. However, analysts do still expect the ongoing economic flashpoints between the two superpowers to be discussed.
The currency issue could well be broached by Mr Obama. The US wants China to allow the renminbi to more closely reflect its market value. The US runs a huge trade deficit with China, hitting an all-time high of $315bn (£204bn) last year. The US and other countries accuse China of devaluing its currency, so that its goods are cheaper when sold overseas. China has maintained it is moving towards a more market-determined exchange rate.
Chinese export industries including car parts, cars and solar panels are the subject of investigations by US trade officials. US industry groups allege Beijing subsidises manufacturing for Chinese companies, allowing them to price their product so cheaply in export markets that domestic firms cannot compete. The US and other countries have responded by imposing levies on some products coming in from China.
The newest twist in the trade dynamic comes from a surprise announcement last week that China was studying the possibility of joining the Trans Pacific Partnership trade talks, a US-led trade pact. Countries already involved include Japan and 11 others. However, some experts have questioned whether China would be welcome, as some see the pact as a counter-balance to China.