China media: Xi Jinping's US visit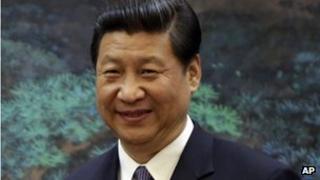 Media see an upcoming California summit as a chance for the Chinese and US presidents to tackle the North Korean issue as well as growing friction over currency, trade, hacking claims and Syria.
After becoming president in March, Xi Jinping will hold his first summit with US President Barack Obama in the resort city of Rancho Mirage, California, on 7 and 8 June on his way back from a tour of Latin America and the Caribbean.
Commentaries in Xinhua News Agency and overseas editions of People's Daily and other state media highlight how Mr Xi wishes to promote a new partnership of "equality and mutual trust" with the US.
Many media and experts also say Mr Xi's choice of Latin America and the Caribbean and Premier Li Keqiang's ongoing tour of South Asia and Europe are showcasing a new "all-directional diplomacy" of reaching out to developing and developed countries.
Jin Canrong, a professor at Beijing's Renmin University, tells Global Times that Mr Xi and Mr Obama's plans to have an informal meeting and breakfast together reflect the two countries' confidence in a "maturing" relationship.
In Global Times, Shen Dingli, a US specialist at Shanghai's Fudan University, praises Mr Xi and a new generation of leaders for bringing a "burst of fresh air" with a "more personalised, flexible and self-confident" style of diplomacy.
Prof Shen says officials should learn from how Li Keqiang won over the Indian public and media during his just-concluded visit by adopting a more "credible and affable" approach and conversing or giving speeches in English.
However, a bilingual Global Times editorial says friction is rising with the expansion of co-operation between China and the US.
"Mutual suspicion between the two countries is deepening after frictions on internet security, the Diaoyu [Senkaku] Islands and the South China Sea. If both sides still attach importance to mutual trust then a strong positive signal is urgently needed to reduce suspicions. This meeting comes at the right time," the editorial says.
China Daily urges the two countries to make use of the summit to anchor "still volatile" relations and better coordinate policies on Syria, the Iranian nuclear standoff, the Korean Peninsula and climate change, instead of "undercutting each other's efforts in international issues".
In Beijing Times, Jia Xudong, a researcher at the China Institute of International Studies, a foreign ministry-affiliated think-tank, stresses that the meeting agenda will not be "relaxed".
He says China is expected to raise concerns over US trade barriers, the US' "strategic rebalancing" in Asia-Pacific and East Asian maritime disputes.
"What China expects from the US is a clear commitment that it will not do things to harm China's sovereignty," Chen Mingming, a retired Chinese diplomat, tells China Daily.
Following the Chinese foreign ministry's rebuttal against further allegations in The New York Times and The Washington Free Beacon of state-backed cyber-espionage as "irresponsible" and "unprofessional", a Liberation Army Daily commentary says such "unwarranted charges" are merely an excuse for the US to deflect scrutiny from the build-up of its own cyber-forces.
'Fruitful' India visit
Turning to Mr Li's wrapped-up tour of New Delhi and Mumbai, China Daily says the visit was brief but "very fruitful" for both sides, with a series of cooperative agreements signed, including trade, investment, culture and infrastructure.
Wang Dehua, a South Asian studies specialist at the Shanghai Institute for International Studies, says Beijing will step up co-operation with India on Afghanistan, but not on India's bid to become a permanent member of the UN Security Council.
"China welcomes more voices of developing countries to be heard. But India is close to Japan as well, and having India as a permanent member may add to Tokyo's influence on the security council," he tells Hong Kong's South China Morning Post.
Experts tell China Daily and Global Times that ambiguity over maritime boundaries with North Korea needs to be cleared up following the release of 16 Chinese fishermen who were reportedly held for ransom by an unidentified North Korean group.
One of the kidnapped crewmen recounts to China National Radio how 10 or more armed captors in civilian or North Korean military clothing kidnapped them in Chinese waters and took away the crew's diesel oil, boat machinery, fishing equipment, food and clothes.
North Korean hijackings of Chinese vessels happen "very often", he told the radio station.
BBC Monitoring reports and analyses news from TV, radio, web and print media around the world. For more reports from BBC Monitoring, click here. You can follow BBC Monitoring on Twitter and Facebook.