Chinese web activists see new pressure from censors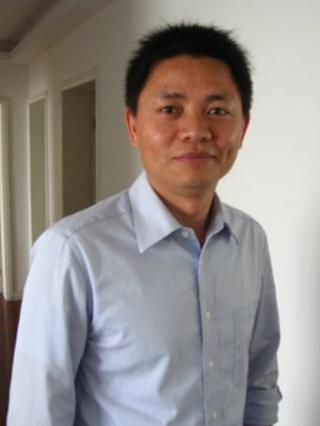 For years it has been difficult to work out who is winning China's internet battle: the forces of censorship or the forces of freedom of expression.
But the country's new government, in power for only a few months, appears to have launched a new offensive, closing the social media accounts of some influential opponents.
Zhang Xuezhong, a lawyer and university lecturer, shows me some of the technological tricks he uses to try to evade the censors.
But each new blog he sets up is discovered and blocked within just a few days.
Before the censors moved in, his blog had flourished, unfettered and free, for 18 months, and gathered more than 200,000 followers.
So why close it now?
'Tougher control'
It might be connected, he believes, to a change at the very top of China's politics, with the newly appointed leadership under party chief, Xi Jinping.
"I think Xi is tougher in the control of public opinion than the former leader," Mr Zhang tells me.
"All of the accounts that have been cancelled have been critical of the government."
China certainly seems to be getting tougher on its online world.
Reports earlier this week described a Communist Party document, said to come from the Central Committee General Office.
The document warned of the need to strengthen internet management against the dangers of western ideas and "erroneous currents of thought".
Murong Xuecun is another high profile liberal commentator to have been silenced.
Last weekend, his blogs, four in total with at least one followed by 3.9 million people, were cancelled, without explanation.
"Over the last 60 years there's been an ongoing effort to suppress free speech," he says.
"But I am fearful now because there's been a sudden movement to suppress it on a large scale, similar to the suppression in 1957 of the Tibetan uprising, during the Cultural Revolution in 1966, or after the Tiananmen incident in 1989."
False rumours
At least some of the recent crackdown, according to official state media, is part of a drive against the deliberate spreading of false online rumours.
China says such rumours, misreporting the spread of the latest outbreak of bird flu for example, are dangerous and can harm public security.
Critics counter that that is simply a smokescreen to allow more censorship, and that the best way to dispel rumour is to allow topics to be openly discussed.
To some extent of course, that online discussion is already underway in China in boisterous fashion and with a degree more freedom than the casual observer might perhaps expect.
Before his blog was closed down, Zhang Xuezhong spent his time criticising not just policies, but China's party system itself.
"I was trying to call for China to get rid of Marxism as the controlling ideology," he tells me.
"And I have also been calling for party officials to retreat from the universities and schools."
Whether we really are now seeing the beginnings of a significant shift in the way China polices the internet, or something more temporary, is difficult to say, of course.
The efficiency of Chinese internet censorship is well known, with a recent study revealing that posts on sensitive subjects were removed as quickly as five minutes after being put up online.
Not bad for a system with 300 million users.
Tolerating dissent?
But what's making bloggers feel uneasy is the removal of the complete accounts of some very high profile, well known academics and writers.
"It's not a fear of being imprisoned," Murong Xuecun says.
"I'm not afraid of going to jail. I am scared but have absolutely no idea what to fear. That is the scariest thing."
It will be cold comfort to him that, shortly after we recorded our interview, his blog appeared back online, as suddenly and as mysteriously as it had disappeared.
China, it is often said, needs to tolerate a certain amount of dissent.
The trouble for dissenters is never knowing, from one day to the next, exactly how much.