China lawyers held and beaten over 'black jail ' in Sichuan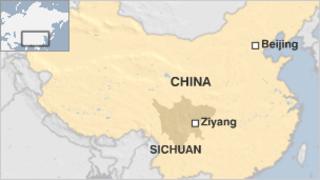 A group of lawyers in China have told the BBC how they were detained and beaten when they tried to visit a detention centre in Sichuan province.
On Monday seven lawyers went to Ziyang Legal Education Centre, which they say is one of China's illegal detention centres, known as "black jails".
Four more lawyers who came to help on hearing they had been hurt were also held by police. All have been released.
Calls to the police station and to the education centre went unanswered.
Until recently the Chinese government denied the country had such detention centres, but has started to acknowledge they exist.
In December 2011, Beijing's public security bureau launched a six-month crackdown on such facilities operated by private security firms.
For years campaigners have said that ordinary citizens can be held without a proper trial for months at these centres, which are often in state-run hotels, nursing homes or psychiatric hospitals.
The seven lawyers who initially went to the centre said they wanted to "take photos and post them on weibo so that the public is aware this is a venue that impinges on human freedom and detains people illegally".
They say that the centre is one of Sichuan's largest so-called black jails.
One of them, Jiang Tianyong, told the BBC that while they were taking photos they were challenged to produce their ID cards. When they refused several "big built" men came out of the centre and threatened them, Mr Jiang said.
He said that as they fled they were stopped by two police cars and asked for ID again and as they were being detained, they were beaten and five of the lawyers were injured.
Among the lawyers who later came to help them and were themselves held was Wang Cheng, who is well known for having challenged appointments made by China's National People's Congress in March.
That group of lawyers was released on Monday night and the rest were released on Tuesday morning.
Their account of events cannot be independently verified.