China media: Taipei-Manila deadlock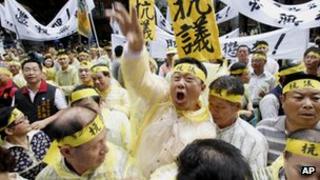 Media continue to debate how Taipei can end a stalemate with the Philippines over the fatal shooting of a Taiwanese fisherman last week.
Taiwan's Central Daily News expresses confidence that the dispute over fishing rights will be resolved bilaterally and urges Taipei to wait for the Philippines to respond to the ultimatum deadline today before stepping up pressure.
However, China Times foresees little chance of the Philippines conducting a "credible and impartial investigation" or issuing an adequate formal apology.
It urges the Taiwan government to seek international arbitration over the disputed waters and for the navy to drive away or even "destroy" any Philippine vessels threatening Taiwanese fishermen if Manila fails to satisfy Taipei's demands.
Liberty Times shifts ultimate blame to Beijing's "international blockade" against Taiwan for emboldening countries like the Philippines.
Over in mainland China, the media are incensed over the "smiling" faces of Philippine President Benigno Aquino and presidential palace deputy spokeswoman Abigail Valte when explaining that the Taiwanese fishing vessel had been fishing illegally and had ignored the Philippine coast guard's warning shots.
China Central Television ran a headline, "Insincere, incompetent - Philippines' response to crisis inadequate", in its coverage of their press briefing yesterday.
"Enraging", Southern Metropolis Daily calls Ms Valte's "smile".
Oriental Daily News and other Hong Kong newspapers recall how Mr Aquino also appeared to be smiling when responding to a botched rescue of Hong Kong tourists taken hostage by a gunman in Manila in 2010, which led to the deaths of eight Hong Kong citizens.
"Another infuriating smile", reads a Sing Tao Daily editorial. It says the "frivolous smiles" of top Philippine officials will fail to ease the indignation of Taiwanese.
Turning to Japan, Global Times says Prime Minister Shinzo Abe's stance on disputed islands known as Senkaku in Japan and Diaoyu in China is likely to inflict greater damage than former leader Junichiro Koizumi on Sino-Japanese relations.
It notes that Mr Koizumi "did not make a big fuss" on territorial disputes and that his visits in 2001 and 2002 to the Yasukuni Shrine, which marks Japan's war dead including convicted war criminals, did not derail economic ties or dramatically escalate security tensions.
Schoolgirl abductions
An angry public are demanding severe punishments for a primary school headmaster and a housing authority official who were detained after allegedly abducting and molesting six schoolgirls from another primary school in hotel rooms in Wanning city, Hainan, last Wednesday and Thursday.
Xinhua says authorities will conduct another forensic test after initial results showed the suspects did not have sexual intercourse with the girls.
The Beijing News says China urgently needs to break taboos on tackling sexual assault involving minors. It says a teacher in Longxi County, Gansu, was handed a suspended death sentence only a few days ago for the sexual assault of eight underage girls.
Beijing Times says the public is demanding more "convincing" information on the extent of the sexual assault inflicted on the girls and whether other suspects were involved.
Mainland media are also shocked at how a high school student in Zhoukou, Henan, hired two "hit-men" on the internet to kill his father and elder sister on Sunday.
The son allegedly took revenge against the strict discipline regime the pair imposed on the boy, Zhengzhou Evening News reports.
Global Times hails the power of internet users in exposing alleged corruption among officials, including economic planning official Liu Tienan, who was removed from his post yesterday for "alleged grave violations of discipline".
Former district party boss in Chongqing, Lei Zhengfu, was formally prosecuted on 10 May for accepting bribes in a sex tape extortion scandal that has led to the downfall of many Chongqing officials, including nine undisclosed sackings, The Beijing News says.
Also in Chongqing, Tang Jianhua, a former deputy police chief, who was once lauded as a crusader against organised crime, has been dismissed from the Communist Party and his post for allegedly accepting bribes of 16.95m yuan ($2.76m; £1.8m) in bribes and rewards worth some 90,000 yuan, Southern Daily reports.
BBC Monitoring reports and analyses news from TV, radio, web and print media around the world. For more reports from BBC Monitoring, click here. You can follow BBC Monitoring on Twitter and Facebook.