Hong Kong court supports transsexual right to wed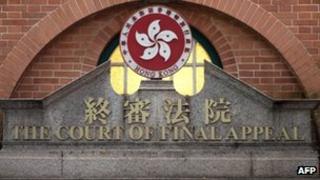 A Hong Kong transsexual has won the right to marry her boyfriend, following an appeal to Hong Kong's top court.
The Court of Final Appeal ruled that Hong Kong's current law, which barred the transsexual woman from marrying her male partner, is unconstitutional.
The woman, identified only as W, underwent gender change surgery at a public hospital a few years ago.
Hong Kong's marriage registry had refused her request because her birth certificate still classes her as male.
"The right to marry guaranteed by our constitution extends to the right of a post-operative transsexual to marry in the reassigned capacity," the majority ruling, co-written by Chief Justice Geoffrey Ma and Permanent Judge Robert Ribeiro, said.
"In present-day multi-cultural Hong Kong where people profess many different religious faiths or none at all... procreation is no longer (if it ever was) regarded as essential to marriage," it added.
The ruling said that references to "woman" and "female" in Hong Kong's marriage law should include post-operative male to female transsexuals.
Four of the court's five presiding judges supported the ruling, with the fifth voting against it.
However, the court said it would not implement the judgement for the next 12 months, to allow the government time to consider amending the law.
'Radical change'
Permanent Judge Patrick Chan, who voted against the ruling, said including post-operative transsexuals in the definition of "man" and "woman" was "a radical change of the traditional concept of marriage".
"There is no evidence that the social attitudes in Hong Kong towards the traditional concept of marriage and the marriage institution have fundamentally altered," he said, adding that changes should only be made after "wide public consultation".
W took her case to the Court of Final Appeal after Hong Kong's High Court ruled against her case in 2010.
W's lawyer had argued that her gender change surgery had been considered medically necessary, and been performed in a public hospital using government funds.
He had added that she is considered a woman in every other aspect of her life, and is listed as female on her passport and identity card.
The government had argued that she could not get married as W's birth certificate still classes her as male. It argued that the wedding would constitute a same-sex marriage, which is not legal in Hong Kong.
Under Hong Kong law, it is not possible to amend birth certificates.
Transsexuals who have undergone surgery are allowed to marry in some other parts of the world, including mainland China, EU countries and Canada.